Oregon's 'Most Tattooed Man' Injects Ink Into Own Eyes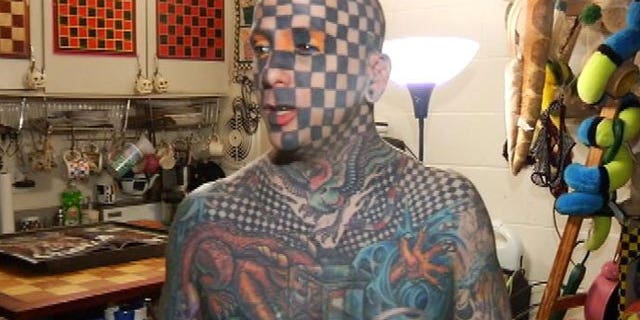 A Portland, Ore., man who is known for having more than 98 percent of his body covered in tattoos, has injected ink into both of his eyes—by himself, KPTV.com reported.
Matt Gone claims he was born with birth defects that inspired him to hide them using tattoos. He began tattooing his body 20 years ago, and is best known for the checker pattern on his face and chest.
"I picked the checker pattern because nobody had done it," Gone said.
Gone tattooed his own eyes with two different colors, blue and green.
"I never really knew how far I would ever go, and [tattooing my eyes] is about as far as you can go," Gone said.
Dr. Douglas Meier, an ophthalmologist with the Portland Clinic in Beaverton, said Gone is putting his eyesight in jeopardy by risking infection.
"The risk of putting a needle near your eye is grave," Meier said. "Someone at home does not have access to the equipment nor the expertise."
Gone said he tattooed his eyes with caution, and is a professional.
"I patch tested it and was successful. I had to take the risk; I've done that a lot of times before," Gone said. "I'm not crazy. I'm trained. I have a lot of experience."
Meier said the Board of Medical Examiners in Oregon is reviewing the practice of tattooing the white portion of the eye.