Olympic gold medalist Kikkan Randall reveals breast cancer diagnosis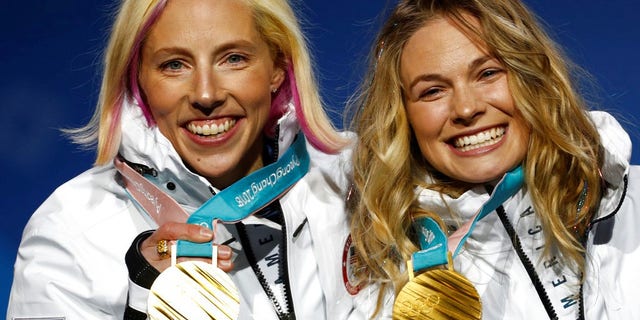 Nearly five months after she became one of the first American women to ever medal in a cross-country Olympic skiing event, when she and teammate Jessie Diggins won gold in Pyongchang, Kikkan Randall announced on social media that she has been diagnosed with breast cancer.
"The color pink has taken on a new chapter in my life as I was recently diagnosed with breast cancer," Randall, 35, posted on Facebook Wednesday. "Although we caught it early and the prognosis is good, my life will change quite a bit in the coming months. I have returned to Anchorage for treatment at Providence Alaska Cancer Center.
The five-time Olympian and Team USA's only mom to compete in this year's Winter Games said in a subsequent interview that it's been a "roller coaster" since she first discovered two pea-sized lumps in her breast.
"It's a scary thing to learn you have cancer and I have wondered every day since how this could have possibly happened to me," Randall, who shares 2-year-old son Breck with husband Jeff, continued in her Facebook post.
"But I have promised myself that I will remain positive and active and determined throughout my treatment. I am going to bring as much tenacity, strength, and energy toward this challenge as I have throughout my entire career."
Randall told the Anchorage Daily News that she was initially in denial and disbelief after receiving her diagnosis, and that she and her husband had relocated to British Columbia in April and were planning to expand their family.
WOMAN COMPLAINING OF 'ELECTRIC SHOCK' IN HER LEGS HAD TAPEWORM IN SPINE
"When you're an athlete, you feel invincible," Randall, whose nickname "Kikkanimal" pays homage to her aggressive training regimens, told the news outlet. "You never think this is a position you'll be in."
Randall said she began her first of six rounds of chemotherapy on Monday and will keep supporters updated on her blog. She told the Anchorage Daily News that her doctors believe the cancer is stage 2, but that they won't know until they operate after she finishes her chemotherapy.
"It's really been a mixture of emotions and it's so surreal for me because I just won a gold medal four months ago and I just was feeling on top of the world," the 13-time World Cup winner said. "Life is going to kind of forever change."