Oklahoma star braces for Sweet 16 -- with bullet lodged in shoulder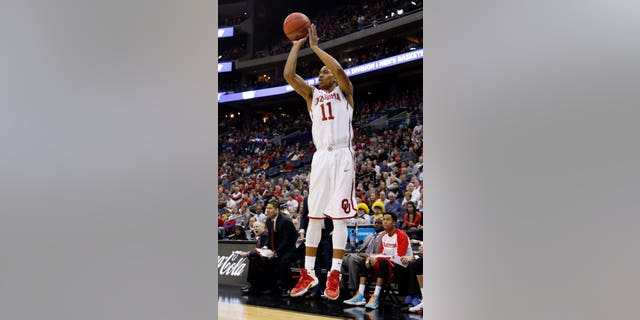 Buddy Hield, Oklahoma's star guard, recalled he was home in Freeport, Bahamas, when he heard the news.
"I was so scared,'' Hield said.
It was a natural reaction, as all Hield immediately knew was his teammate and backcourt mate, Isaiah Cousins, had been shot. In a situation like this, the devil is in the details, and it took some time before Hield learned Cousins was going to be fine.
"You walk in the streets of New York,'' Hield said. "Isaiah was being so good, he's not a troublemaker, nothing like that. I feel like he came to Oklahoma to get away from that city life. He was being so good, and he goes back, and unfortunately it happens to him.
"Everyone was saying, 'Isaiah is messing around with gangs,' which he is not. That's where he lives, he has to go home, and the bullet caught him.''
The bullet caught him behind the left shoulder last May 27, with Cousins enduring the harsh lesson of what "wrong place, wrong time'' can truly mean. Ten months later, the bullet remains lodged inside Cousins as he takes his place in the starting lineup Friday night for Oklahoma, as the No. 3-seed Sooners (24-10) face No. 7 Michigan State (25-11) in an East Region semifinal game inside the Carrier Dome.
"Just got to appreciate everything that's going on in life,'' Cousins told The Post Thursday. "Just love doing what you do. It helped me focus on basketball more.''
Oklahoma got here by grinding through NCAA Tournament victories over Albany (69-60) and Dayton (72-66) last week in Columbus, Ohio. If there was a big jumper in the opener against Albany, Cousins made it, as the Sooners' lead was trimmed to six points with 3:20 remaining and the Great Danes one defensive stop away from legitimate upset rumblings. With the shot clock nearly expired, Cousins, well-covered, contested and not having a strong offensive game, let fly with one of his line-drive 3-pointers.
Click for more from The New York Post.