Oklahoma doctor claims $300 'Jesus Shot' can cure chronic pain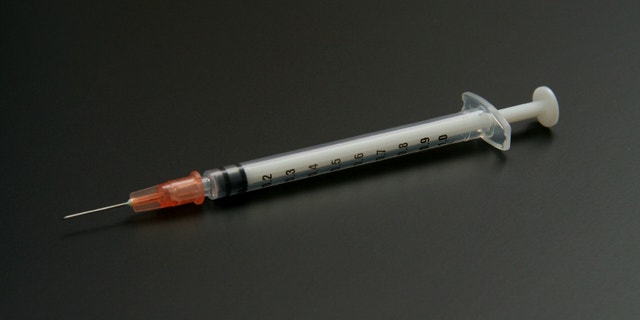 NEWYou can now listen to Fox News articles!
News broke this week that a Texas lawmaker had allegedly traveled to Oklahoma on taxpayers' dime to get an experimental treatment he says has cured his chronic pain, bringing a controversial medical procedure called the "Jesus Shot" into the national spotlight.
Administered for the past few years by only one doctor, John Michael Lonergan, the Jesus Shot contains two drugs and one vitamin approved by the Food and Drug Administration (FDA), Dr. Mary Schrick of Full Circle Integrative Health in Edmond, Oklahoma, which used to host Lonergan's practice, told the Houston Chronicle. Schrick said those components are Dexamethasone, Kenalog and vitamin B12, and that they are used in combination to treat inflammation linked with chronic pain.
The National Institutes of Health defines chronic pain as any pain lasting longer than 12 weeks. It's the No. 1 adult disability in the United States, affecting more Americans than diabetes, heart disease and cancer combined.

Lonergan, who works at Priceless Beauty Spa in Kingfisher, Oklahoma, has said the Jesus Shot cures chronic pain for life, the Chronicle reported. He reportedly charges $300 for the shot.
Dr. Vania Apkarian, a physiology, anesthesiology, and physical medicine and rehabilitation professor at Northwestern University, called those claims "outrageous."
"This is some variant of giving some anti-inflammatory drug and cortisol, which is what all chronic pain patients are treated with regularly in almost all pain clinics," Apkarian, who has studied pain in animals and human models for two decades, told FoxNews.com. "It's effective for a week or so, and eventually the pain comes back."
He said the success rate of anti-inflammatory drugs like these is 10 to 20 percent at best.
"This is quackery," Apkarian said. "There is nothing in here that is anything different from the standard lines of managing pain."
He said the shot probably wouldn't cause harm but rather, "It's guaranteed not to do anything."
The Chronicle reported that the Oklahoma Medical Board has deemed the Jesus Shot a legal medical procedure and that the antidote has been around for 33 years.
Reji Varghese, deputy director of the Oklahoma Medical Board, told FoxNews.com he could "neither confirm nor deny" the board was aware of the Jesus Shot, and he declined to offer comment on the controversy surrounding its administration due to any potential patient complaints that may exist, which he also declined to comment on.
As of Friday afternoon, Lonergan hadn't received any disciplinary action from the board, Varghese said.
Lonergan declined to offer comment to the Chronicle when reached at the spa, where he reportedly works Thursday mornings.
News9.com, in Oklahoma, reported that the State Medical Board of Ohio, where Lonergan had previously lived, permanently revoked Lonergan's medical license in 2005 after he was federally convicted then incarcerated on multiple counts of tax evasion, mail fraud and health care fraud in Ohio.
Lonergan then moved to Oklahoma, and in October 2012, the Oklahoma Medical Board voted to allow Lonergan, who goes by "Dr. Mike," to practice medicine following completion of training at the Center for Personalized Education for Physicians, Varghese said.
"This is required for a licensee who is trying to get reinstated or if there's any concern about an applicant who has been out of practice for a while," Varghese said.
Texas Agriculture Commissioner Sid Miller, who has come under fire for using taxpayer dollars to fund a $1,120 trip to allegedly fly to Oklahoma in February 2015 for the Jesus Shot to relieve his chronic pain, declined to elaborate on the shot during an interview with the Chronicle.
"That's private medical information," Miller told the Chronicle. "I'm not going to share that with you, but it's worked out good."