Off-duty officer saves choking 3-year-old boy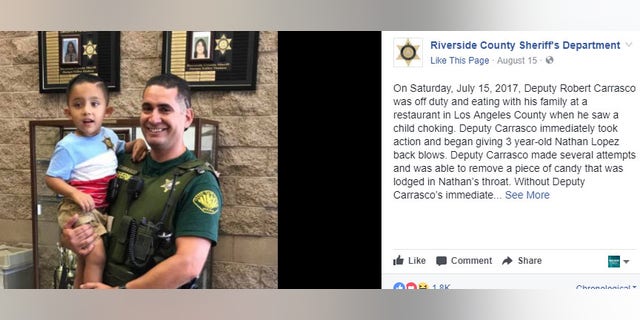 A California sheriff's deputy was reunited with the 3-year-old boy he saved from choking on a piece of candy while the two were dining at the same restaurant. Riverside County Sheriff's Deputy Robert Carrasco was off-duty and dining with his own family last month when he saw Nathan Lopez struggling at a nearby table, Fox 11 reported.
Carrasco rushed over to Lopez and began hitting his back, eventually dislodging a piece of candy that was stuck in the boy's throat.
DENTAL PROFESSOR TACKLING OPIOID EPIDEMIC IN CLASSROOM AFTER SON'S OVERDOSE DEATH
"Nathan's mother Jackie said she and her husband felt helpless when Nathan was choking," Riverside County Sheriff's Department said in a Facebook post. "She said there was no doubt Deputy Carrasco saved Nathan's life and he is their Hero!"
On Aug. 15, the pair reunited at the police station for a photo.