NFL Tackling Rules a Step in the Right Direction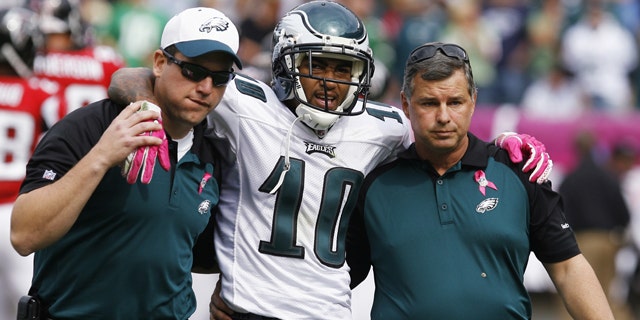 The National Football League announced Tuesday it will immediately begin suspending players for "egregious and elevated hits" that violate rules, particularly those involving helmets.
In the past, players were either fined or ejected for illegal hits. But after the series of recent flagrant tackles last Sunday, several of which resulted in concussions, the NFL ramped up the punishment.
Among the hits getting attention last weekend:
—The Eagles' DeSean Jackson and the Falcons' Dunta Robinson were knocked out of their game after a frightening collision in which Robinson launched himself head first to make a tackle. Both sustained concussions.
—Ravens tight end Todd Heap took a vicious hit from Patriots safety Brandon Meriweather that Heap called "one of those hits that shouldn't happen."
—The Steelers' James Harrison sidelined two Browns players with head injuries after jarring hits.
Dr. Sharon Chirban, an instructor at Harvard Medical School and specialist in sports-related head injuries at Children's Hospital Boston, told FoxNews.com that repeated head injuries to players can be detrimental to their quality of life.
"What we've learned through neuroanatomical research of the aging of athletes is that these head shots cause cognitive impairment, problems with memory, focus and concentration, premature death or early signs of Alzheimer's and dementia," Chirban said. "There are also emotional problems like depression."
The NFL's vice president of football operations Ray Anderson said Tuesday that the league was concerned about how the fundamentals of tackling were being coached.
Chirban said the way professional athletes play has a ripple effect.
"The way professional coaches teach their players shapes the way a high school coach confronts how children are involved in the sport. It is a big youth sports issue at the moment," she said.
Children do not recover as quickly from head injuries as adults, and repeated concussions cause difficulties for them in life, like not being able to pay attention in school.
Steelers coach Mike Tomlin told the Associated Press he favors stricter enforcement of helmet hits.
"I'm all for player safety," Tomlin said Tuesday. "I think it is the proper initiative that the NFL has. I think we need to safeguard the men that play this game to the best of our abilities and make it as safe as we can.
Chirban said she thinks that the NFL has done all it can with products and equipment, like helmets that absorb a large amount of shock--but notes that no amount of equipment will change the game.
"There is nothing to protect a human being from momentum. The brain doesn't have to be hit to have a concussion, just impact that is hard enough can cause a brain injury," she said. "Cleaning up hits will minimize the risk. You can never fully prevent the risk, because football is a game of contact."
She said that although the NFL is taking a step in the right direction, they could do more to ensure their players safety.
"It costs teams money to have players out of play, but players need to have time to recover, and that is a pretty involved process," she said. "The NFL needs clean parameters for return to play decisions. The next best thing is to not let players return until they are fully recovered."
The Associated Press contributed to this article.
Follow Fox News Health and Dr. Manny on Twitter!