NFL Hall of Famer Barry Sanders raising awareness for neurological condition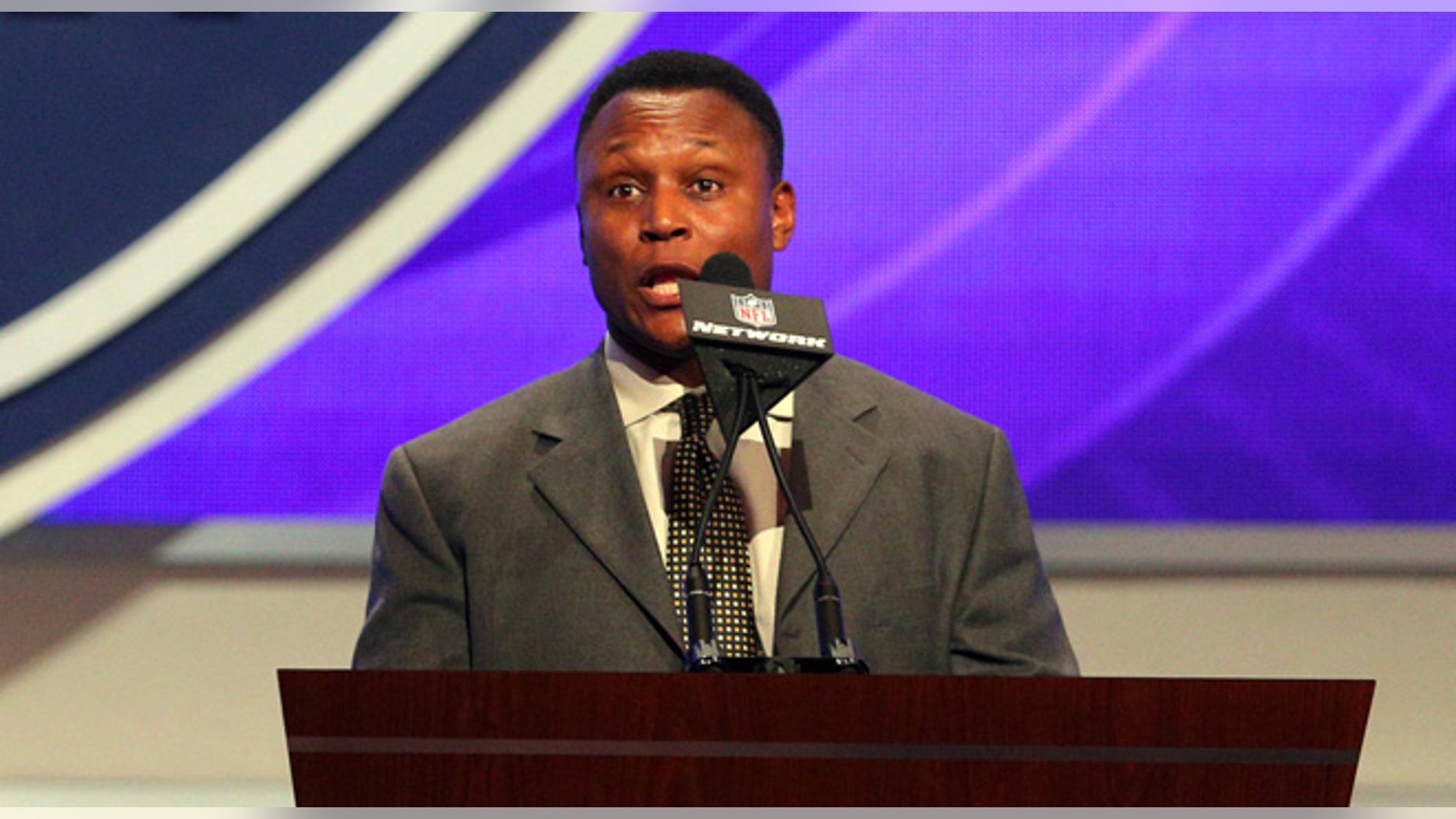 Football Hall of Fame running back Barry Sanders has numerous titles and records to his name— now he's focused on achieving at least one more goal. Sanders, 46, has teamed up with the Gridiron Greats Assistance Fund (GGAF) to defeat a widespread, but little-known neurological condition caused by brain injury.
Sanders, who for 10 seasons used his electric running style to leave opponents in the dust while donning the Detroit Lions' signature silver and blue, first learned about Pseudobulbar Affect (PBA) – a neurological condition characterized by uncontrollable, sudden outbursts of crying or laughing -- through a survey conducted by the GGAF.
Out of the 474 surveyed former professional football players, 99 percent were found to have suffered a head injury, repeated concussions, or a blow to the head at some point during their football career. Of these players, a third reported experiencing symptoms consistent with PBA.
While Sanders himself does not suffer from PBA, he knows plenty of former teammates and opponents who do, which motivated him to become involved in TacklePBA.org, which also works with Gridiron Greats and Avanir Pharmaceuticals.
"In that survey they found a good number of players have PBA-like symptoms, so for me it definitely hits close to home," Sanders told FoxNews.com. "We want to give those players those resources they need in being able to deal with this," he said.
An estimated two million Americans suffer from PBA, which is not limited to sports-related injury. PBA is a condition caused by any brain-related injury and may occur in people who have been in a car accident, suffered a fall or have other neurological conditions like Alzheimer's disease, multiple sclerosis or suffered a stroke.
"There's no prevention, per say," Dr. Gregory O'Shanick, president and medical director of the Center for Neurorehabilitation Services in Richmond, Virginia told FoxNews.com. "In medicine what we try to do is, especially when someone has a chronic illness, you try to optimize their health so that they can have the fullest life possible."
Part of ensuring that patients have a fulfilling life, according to Sanders and O'Shanick, is letting them know that there are ways and people to help.
"We want them to know that it is treatable," Sanders said. The website provides a self-assessment test as well as tips for how to live with PBA, and how to help someone suffering from it.
"You have to be aware that it exists and by going to TacklePBA.org and doing that self-assessment you can take that information, that data, that knowledge and talk to your health care provider," O'Shanick said. "You don't have to be embarrassed, you don't have to be ashamed," he said.
PBA can occur when there is an injury to the part of the brain that controls normal expression of emotion. The damage can disrupt brain signaling, causing a 'short circuit' and triggering involuntary episodes of crying or laughing that last for up to several minutes. The outbursts can be inappropriate to the situation causing a patient to feel self-conscious or embarrassed.
While much of the discussion surrounding professional football focuses on head injuries, Sanders said he believes the league is doing everything it can to protect the players.
"I think that the protocol and guidelines that are in place are really all we can do," Sanders told FoxNews.com. "There's a lot we gain from playing the game at every level, and I think that they certainly monitor players and make sure that they are in as good a condition as possible."