New York City's Free Condoms End Up For Sale In Dominican Republic, Report Says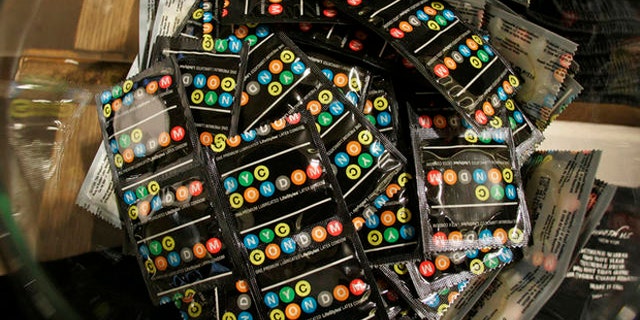 New York City introduced its free condom program in 2007 and now – unbeknownst to city officials – the program has expanded to the Dominican Republic…but for a cost.
The New York Daily News is reporting that large numbers of the New York City-branded condoms that are available free of charge in the city's five boroughs have turned up in large numbers for sale on the island after being smuggled into the country.
In Las Galeras, on the eastern coast of the country, the condoms are sold at the local pharmacy for about 50 cents each, a better deal than the more expensive Durex-brand condoms that run over a dollar, the newspaper reported. The NYC condoms are made by Lifestyle.
"We buy them from a provider here in the Republic," pharmacist Francisco Pallano, whose store displays the distinctive NYC condoms in next to other brand condoms, pregnancy tests and lotions in a glass case in the front of the store, told the Daily News. "They distribute them to any pharmacy that wants them."
Pallano said he did not know the name of the distributor.
The city's Health Department distributes about 38 million condoms free of charge yearly to 3,500 nonprofit groups and businesses, including bars, restaurants, nail salons, barbershops and hospitals. The program began as an effort to stop the spread of sexually transmitted diseases like HIV and to cut down the rate of unwanted pregnancies.
Health Department officials acknowledged some participants in the program have been caught shipping out large numbers of condoms to other countries, including one caught sending them to the Dominican Republic. The city, however, says that this is not a widespread problem.
"We estimate that the lost condoms are a very small percentage of overall distribution," a department spokesperson told the Daily News.
The NYC-branded condoms are widely sold through the island with stores and pharmacies hocking the illegal condoms in the capital of Santo Domingo and other smaller cities and towns.
"The NYC brand is intended for free distribution to high-risk populations in New York City and is increasingly smuggled into the Dominican Republic and resold illegally," the report found.
Follow us on twitter.com/foxnewslatino
Like us at facebook.com/foxnewslatino