New surgical goggles spot cancer tissue where human eye won't, study claims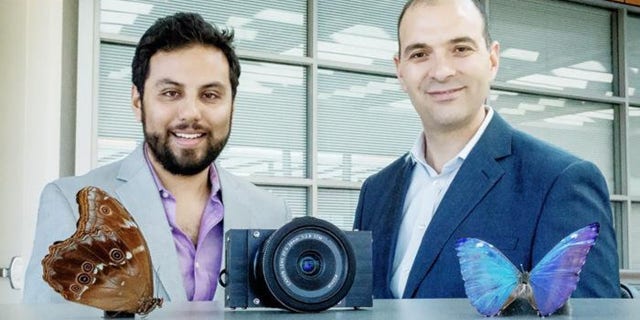 Surgical goggles developed by researchers at the University of Illinois and Washington University are able to spot cancerous tissue where the human eye won't, a new study claims.
The goggles, which were tested in mice and women with breast cancer, have an integrated camera that can pick up infrared signals beneath the surface of the tissue.
The tiny device was inspired by the morpho butterfly's eyes, according to the study published in the journal Optica.
Researchers explained that before the surgery the women were injected with a green dye containing a protein that attaches specifically to cancer cells.
IN A FIRST, TWO ROBOTS REMOVE UTERUS AND COLON IN
SIMULTANEOUS SURGERY
The dyed cells emit an infrared signal that cannot be seen by the human eye, but is detected by the camera in the goggles worn by the surgeons.
"By looking at the way nature has designed the visual systems of insects, we can address serious problems that exist with cancer surgery today and make sure there are no cancer cells left behind during surgery," said study leader Viktor Gruev, an Illinois professor of electrical and computer engineering and of the Carle Illinois College of Medicine, as quoted by Eureka Alert.
BIG BROTHER GETS HAIRCUT TO MIMIC SISTER'S 10-INCH BRAIN
SURGERY SCAR
"Our technology is much quicker because one of the advantages is imaging deeper in the tissue," Gruev said. "Sometimes when they're looking for green coloration, they're looking for a while because the nodes are below the surface. With the fluorescence, you can see through the skin or the tissue and identify them much quicker."
Since the camera can pick up signals beneath the surface of the tissue, the surgeons could even locate tumor sites through the skin.
'NIGHTMARE BACTERIA' CASES SEEN IN 27 STATES, CDC REPORTS
"We could image before the incision and identify the potential points of interest to minimize the incision," said Missael Garcia, a postdoctoral researcher at Illinois and the first author of the paper.
Gruev noted that not only is the new technology more sensitive and accurate, but much smaller and lower-cost than currently available instruments that are FDA-approved.
"We anticipate it to cost around $200, compared with $20,000 for the cheapest FDA-approved instrument," he said.
With reporting by SWNS.