New Mexico Peanut Butter Town Seeks Comeback After Massive Recall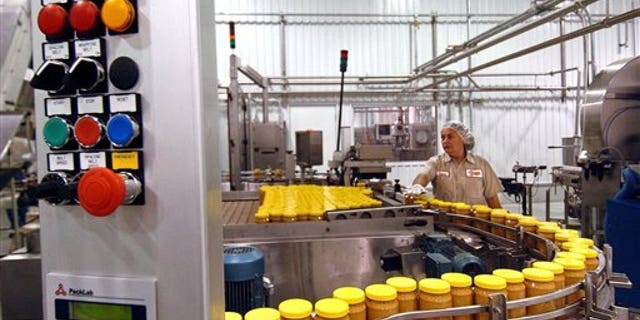 The country's largest organic peanut processing plant is getting a major scrub down in hopes of getting it back to business after a massive recall of products linked to a salmonella outbreak.
The recall has impacted peanut butter and other nut products sold at major stores throughout the country, raising concern about the long-term impact on the industry, especially in products grown and processed in Portales, New Mexico.
The region is home to the prized Valencia peanut, representing a small percentage of the nation's giant peanut crop. It is favored for natural peanut butter products because of its sweet taste.
While the town is set to celebrate its 39th annual peanut festival, many are faced with anxiety. The crop is piling up in drying trailers and the Sunland Inc. facility, linked to the salmonella outbreak, remains closed for a top-to-bottom cleanup.
"We are very concerned about it," said Wayne Baker, chair of the New Mexico Peanut Growers Association. "The harvest is going on as normal and Sunland is receiving peanuts, but we have got to get the FDA to approve some changes and get going."
Sunland closed late September when the Food and Drug Administration (FDA) and the Centers for Disease Control and Prevention (CDC) linked a salmonella outbreak to peanut butter it produced for retailer Trader Joe's. After the FDA discovered salmonella, the recall expanded in October to include peanuts and other nut butters. Sunland's roasting and processing facilities were also closed.
Sunland has recalled everything made within their facilities since March 2010. The recall affects many peanut butters labeled "organic" or "natural." It does not include major brands, including Jif, Skippy or Peanut Butter.
Sunland manufactures products for Target, Costco and other major retailers.
According to The National Peanut Board, it is too soon to indicate whether publicity on the recall is affecting peanut sales. However, spokesman Ryan Lepicier explained that after a 2009 salmonella outbreak in peanut butter, "there was a short-term light impact, but within a few months peanut butter sales grew month after month," for several years. There was a national recall of about 4,000 products.
Cornell University food science professor Bob Gravani still believes "consumers are going to be wary."
"Whenever there is a foodborne outbreak people get a little concerned," said Gravani. "A lot of people eat peanut butter and certainly there is a backlash even for companies producing a clean product."
Sunland is hoping to reopen its facilities within a week to 10 days. However, Sunland spokeswoman Katalin Coburn said it could be six to eight weeks before peanut butter production resumes.
The plant's nearly 150 workers all remain employed. They are teaming up to scrub and upgrade the plant. The peanut harvest continues and the crop is being stored in drying trailers. Experts are still trying to figure out how the outbreak occurred.
Based on reporting by the Associated Press.
Follow us on twitter.com/foxnewslatino
Like us at facebook.com/foxnewslatino