New Jersey couple's babymoon becomes a nightmare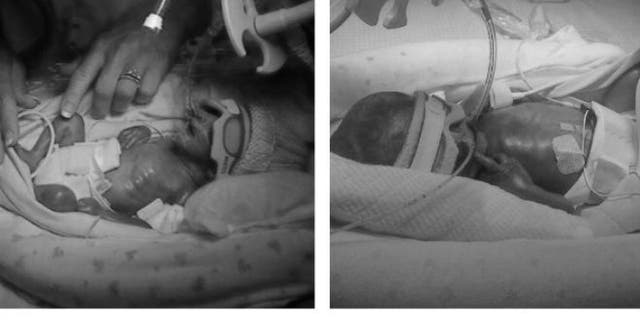 Married for a year and with twins due in August, New Jersey's Fred and Kim Spratt set out on a "babymoon" earlier this year for their last time as a family of two.
"We're trying to hit spots on our bucket list every year, so we picked Portugal," Kim tells the Asbury Park Press. "The doctor gave me 100 percent clearance, and we got total reassurance." Two days before the couple were to depart on April 30, a perinatal appointment for Kim, then 23 weeks pregnant, confirmed all was fine, so the Spratts jetted off to Barcelona, Granada, and Seville in Spain before reaching their final destination of Lisbon, Portugal, where they took a sunset cruise on May 9.
Suddenly, all was not fine. An hour into the cruise, Kim felt off. "I had some cramping, and I thought it was maybe Braxton Hicks contractions." Back at the hotel, Kim's legs started "shaking uncontrollably," she says.
"But I never thought it could be labor." Once at a hospital, "doctors started flooding into the room," she says, while Fred was forced to wait in the lobby.
"Everyone spoke Portuguese so I had no clue what was going on. The only thing I understood was 'breathe,' which a nurse kept repeating." Eleven minutes after Kim was admitted on Mother's Day, son Hudson Charles was born weighing just 1 pound, 12 ounces, followed by daughter Hayden Grace at 1 pound, 7 ounces.
"Everyone kept saying how tiny they were and that they would do everything they could to save them," Kim says, but Hudson died on Memorial Day, reports USA Today, adding the cost of expatriation to mounting medical costs and incredible heartbreak.
For Hayden, there are good days and bad. "It's one moment, one hour, one day at a time," Kim tells My Fox Philly. But when she held her daughter three days ago, "My heart smiled," she says.
"Those little precious moments help us get through." A GoFundMe page has raised some $34,500 for the family. (A similar tale in the US had a happier ending.)
This article originally appeared on Newser: Couple's Babymoon Now a Nightmare
More From Newser