New Hampshire family throws party for autistic teen turned away from school dance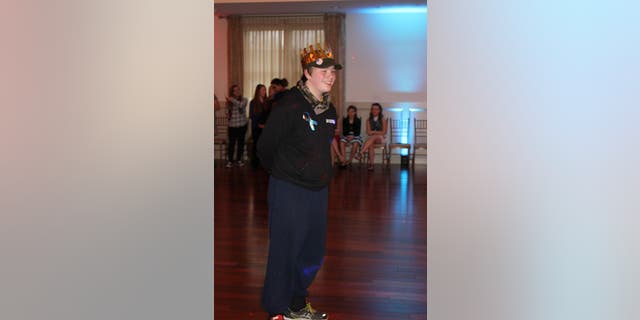 A New Hampshire teen with autism danced the night away at a special event held in his honor last week, two months after he was turned away from a school-sponsored event for failing to meet the dress code. Max Bedard, of Pelham, New Hampshire, was even crowned king of the dance and joined classmates to bust a move.
"I was just blown away," Michelle Bedard, Max's mother, told Fox 25. "I have been so – there are no words to express my gratitude, how incredibly touched I've been through all the support he's gotten."
The event was put together by the Middlemiss family, who lost their son to a rare heart disease and started The Joseph Middlemiss Big Heart Foundation in an effort to spread random acts of kindness. The Middlemisses did not know Bedard before hearing about his school dance mishap.
GROUP OF FRIENDS HELP RESCUE 5-YEAR-OLD BOY WITH AUTISM WHO GOT LOST IN WOODS
Bedard had shown up to the Pelham Memorial Middle School semi-formal dance in his standard sweatpants, t-shirt, hoodie and dog tags in honor of his brother who is in the Army, Fox 25 reported. His mother told the news outlet that school officials sent him away because he was dressed "inappropriately."
Once word spread, the Middlesmiss family enlisted the help of their community and spent weeks planning the ultimate night for Bedard.
"I feel so happy that this actually happened for me," Bedard told Fox 25.
IS YOUR CHILD SHOWING SIGNS OF AUTISM?
Bedard's brother even made it back from basic training in time to see him off to the dance, which was hosted at The Merrimack Valley Golf Club free of charge, Fox 25 reported.
"We do a lot of fundraising events and we do a ton of things to raise money, and this is one of our opportunities to give back to him," Kate Middlemiss told Fox 25.