New drugs treat advanced stages of a common skin cancer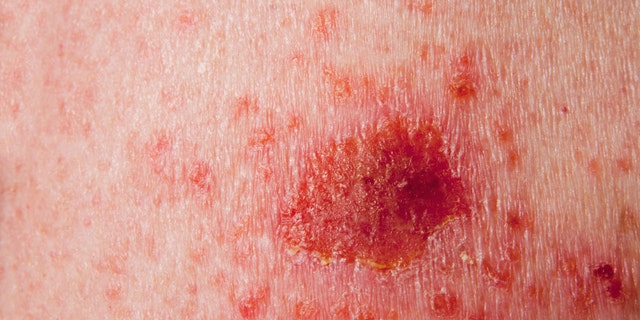 The most commonly-occurring cancer in the U.S. is basal-cell carcinoma, a type of skin cancer that is often treated with surgery or other procedures, and rarely fatal.
Basal-cell carcinoma doesn't often progress to advanced stages, but when it does, it can be life-threatening. Only recently are drug therapies available for advanced disease.
Melanoma, the more dangerous type of skin cancer, accounts for only about 76,000 of the nearly 2.3 million skin-cancer diagnoses in the U.S. each year, according to American Cancer Society estimates. Of the rest, about 80 percent, or some 1.76 million, are basal-cell carcinoma.
Yet melanoma results in about 9,700 deaths a year, compared with 2,000 deaths a year for non-melanoma skin cancers including basal-cell carcinoma. The incidence of melanoma has been rising for at least 30 years, according to the American Academy of Dermatology, and several new drugs in recent years have improved survival rates in advanced cases.
The incidence of non-melanoma skin cancers is hard to track, because they typically aren't required to be reported to government cancer registries. A 2005 study estimated basal-cell cancer is on the rise, including among young women, possibly because of the use of tanning salons.
"We are seeing an increasing amount of basal cells in a wide range of people," says David J. Leffell, chief of dermatologic surgery and cutaneous oncology at Yale School of Medicine in New Haven, Conn. "There's no significant mortality associated with basal-cell carcinoma but that doesn't mean it's harmless."
Most basal-cell tumors are slow-growing and can be removed. Dermatologists nonetheless advise people to be vigilant about watching out for basal cells and seeking treatment, because they can damage skin and bones if allowed to grow.
People with fair skin and blue, green or gray eyes, including those descended from Northern Europeans and getting high sun exposure from living in places like Australia and parts of North America, are at elevated risk of developing basal cells. Doctors say people can reduce their risk by avoiding prolonged sun exposure and tanning beds.
In 2012, the U.S. Food and Drug Administration approved the first drug to treat advanced basal-cell carcinoma, Erivedge. Genentech, maker of the drug, estimates about 29,000 locally advanced and metastatic basal-cell carcinoma cases are diagnosed in the U.S. each year.
Erivedge's development was based on research identifying the so-called hedgehog gene pathway, a cellular process that under normal circumstances helps development of embryos. Cancer cells can activate the hedgehog pathway to aid their proliferation.
The pathway is active in most basal cell cancers, researchers have found. "If the pathway reactivates, it leads to abnormal growth or proliferation," says Sandra J. Horning, executive vice president of global development at Genentech, which is a unit of Roche Holding. Genentech designed Erivedge to inhibit the hedgehog pathway.