Mother hears deceased son's heartbeat again in donor recipient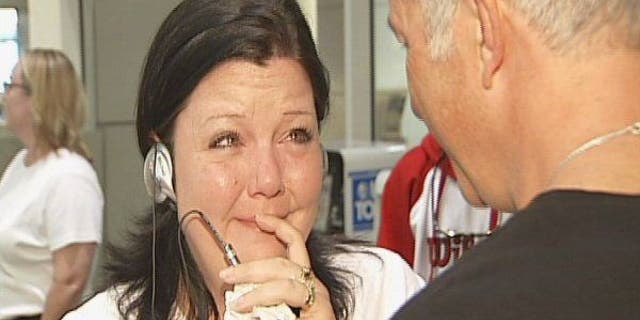 NEWYou can now listen to Fox News articles!
April and Owen Beaver didn't think they would ever hear their son Caleb's heartbeat again after the 16-year-old died on Christmas Day.
But this past week, the Beavers and their family met and hugged the man who received Caleb's heart. The couple had donated many of their son's organs. Tears were streaming down everyone's cheeks as the Beavers met Chuck and Amy Shelton and their sons at the Gulfport airport.
"I can't even describe it," April Beaver said, her voice choked. "I can't even put it into words. I recognize it. It's such a strong heartbeat."
"Thank you for this gift," Chuck Shelton said quietly.
Caleb had a condition known as arteriovenous malformation, which is defects in the circulatory system that develop either before a baby is born or soon after. His parents never knew he had the problem until he became ill Dec. 23 while they were visiting family in Arkansas.
He suffered two strokes and was airlifted to Memphis, but he slipped into a coma, and doctors told his parents he was brain dead. Caleb was taken off life support two days later, and his parents donated his heart, kidneys, lungs, liver, pancreas and his skin tissue.
Chuck Shelton, a psychiatrist in Lexington, Ky., had been diagnosed with an inflammatory disease that causes the formation of clumps of cells similar to scar tissue. He waited months to hear about a donor heart and spent nearly two months in the hospital in Lexington.
On Dec. 26, he received Caleb's heart. He wrote a letter to the Beavers to thank them, and the two families began communicating in June, which led to last week's meeting.
The family was nervous as they watched people walk through the airport terminal, but when they spotted the Sheltons, April Beaver ran to Shelton and hugged his neck, listening for the sound she hadn't heard in eight months.
The Beavers then pulled out a stethoscope to hear their son's heart once again. April hesitated a moment before putting the stethoscope on Shelton's chest, then dissolved into tears.
"This heart is amazing," Shelton said. "It's given me life so I can be with my wife and boys. Caleb still lives through me. Caleb's in heaven, but he's still here."
The families were happy to meet, but all agreed the day was bittersweet.
"It's kind of like the dream meets the nightmare," Amy Shelton said. "It's hard for them, and I can see their pain."
Sandra Laird, Caleb's maternal grandmother, agreed.
"It's hard because the heart is still beating, but it's not beating inside Caleb."