More than half of women don't get mammograms, study finds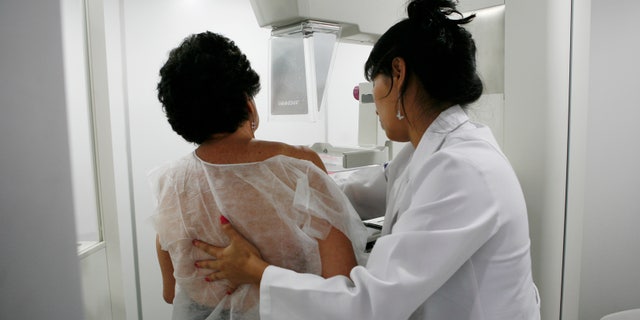 Every October, National Breast Cancer Awareness Month serves as a reminder to women to be diligent about breast cancer screening. But a new study released Wednesday has found more than half of U.S. women do not get proper testing for the disease.
A survey conducted by the Society for Women's Health Research (SWHR), a non-profit organization that studies disease in women, revealed that although four out of five women agree mammograms are important, only 54 percent actually get them.
Guidelines from the American Cancer Society recommend yearly mammograms starting at age 40 and continuing for as long as a woman is in good health.
Among the barriers to scheduling a mammogram, the majority of women cited high cost and lack of insurance as the most significant. Women also reported that they must consider non‐medical costs, including travel, time off work, and childcare.
The survey was conducted among 3,501 women in September 2014, to better understand women's habits and perceptions around breast cancer screening.
The results of the survey suggest a need for health literacy, with 68 percent of women being unaware that coverage of mammograms is mandated by the federal Affordable Care Act, which states the screening be given without a co-pay or deductible, Phyllis Greenberger, president and CEO of SWHR, told FoxNews.com.
"We clearly need to be doing a better job educating women about new preventive benefits that are available to them through the Affordable Care Act," she said. "No woman over 40 should miss an annual screening because they are concerned about cost."
Of those women who do get an annual mammogram, over half said reminders from their primary care doctor play a critical role in keeping up with the diagnostic test.
"There is so much confusion about mammography. Women need clarity," Greenberger said. "We need improved public health and policy education so that women and their health care providers know what the recommendations are."
A staggering 47 percent of women reported being called for further testing after receiving abnormal mammogram results, triggering feelings of fear, stress and sadness. To help reduce this number, Greenberger said she thinks all women should have access to the very latest medical technology.
"I'm encouraged by new technology like the 3D mammogram. Studies on 3D mammography have shown dramatic increases in detection of invasive cancers, while also significantly decreasing false alarms," she said.
Findings show women feel the same. In fact, two-thirds said they would switch insurance providers to receive more accurate breast cancer screening, like 3D mammography coverage.
"We all know that switching insurers is no small decision so this speaks to how much women want increased accuracy in their mammogram, " Greenberger said. "Improvements in screening technology that allow health care providers to detect this disease earlier when it's easier to treat, may mean the difference between life and death."