More than 84 percent of workers admit coming to work sick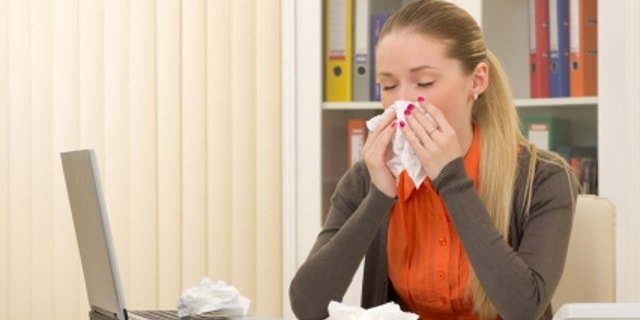 Then next time you say you're sick of your job, you may be getting uncomfortably close to a fact of office life: Most employees come to work when they're sick. Compounding the problem, almost half of workers take no precautions to avoid direct contact with others in the form of shaking hands, fist bumps, etc., or warn their co-workers of their illness.
More than four out of five (84 percent) of employed adults admit to having gone to work while sick, according to a survey of nearly 3,000 U.S. adults 18 and over sponsored by Cintas Corporation, which provides first-aid and safety solution to businesses. The practice is called "presenteeism," health experts say.
[sidebar]
But they're not totally oblivious to the welfare of others. Although not all employed adults avoid direct contact and warn others when there are sick — two common-sense public health practices — they do make an effort to protect others, the survey found. When asked which precautions they take to alleviate their own symptoms and avoid infecting others in the workplace, a majority said they regularly wash their hands/use hand sanitizer (77 percent) or sneeze/cough into their sleeves (67 percent).
Other common preventative measures taken by workers reporting sick to duty include bringing their own medication to work (54 percent) and regularly wiping down their workspace (34 percent).
"Workplaces can quickly become breeding grounds for bacteria when workers engage inpresenteeism, or attending work while sick," said John Amann, vice president of first aid and safety with Cintas. "Since presenteeism reduces business productivity, it's important for people to take the proper steps to protect themselves and others, like avoiding contact and warning co-workers of their illness."
Copyright 2012 BusinessNewsDaily, a TechMediaNetwork company. All rights reserved. This material may not be published, broadcast, rewritten or redistributed.