Mom's post thanking McDonald's employee for autistic son's toy goes viral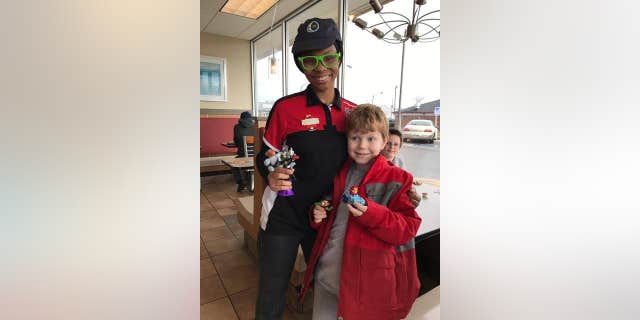 A 7-year-old autistic boy's Happy Meal contained an extra dose of "happy" thanks to a McDonald's employee who spent 20 minutes tracking down the specific toy that he wanted. Leif Kandel had been pestering his mom for a Teen Titans toy that the fast-food giant had been giving away in their Happy Meals.
"He is a picky eater and has a hard time letting things go when he gets fixated on something," Bonnie Kandel, Leif's mom, posted on the Love What Matters Facebook page.
The pair visited a McDonald's in Speedway, Indiana, but learned that the Teen Titans campaign had ended, and toys were replaced with Batman figurines. Kandel tried explaining to 16-year-old Ta'Qualliyia "TQ" Patterson why the toy meant so much to her son.
"Leif was devastated," Kandel wrote in the Feb. 6 post. "I explained more about Leif and why it was so important to him… that he had been talking about these toys nonstop for weeks. The lovely young woman who goes by TQ heard me and understood. She asked the manager if she could dismantle the kiosk and give Leif the toys."
Kandel said that after about 20 minutes of convincing her manager and then dismantling the kiosk, Leif was given a coveted Teen Titans toy by TQ.
"McDonalds, I hope you know how lucky you are to have such a sweet woman on your staff," Kandel posted. "Someone who takes special care of their customers, someone who goes well above and beyond."
The post has more than 45,000 likes and has been shared more than 3,400 times. Patterson, a senior at Ben Davis High School who has been working at the McDonald's for about two years, told Fox 59 that giving Leif the toys made her day.
"Seeing him excited and knowing that I made him smile, it made my day," she said.