Mom who nearly died from Toxic Shock Syndrome warns on dangers of infection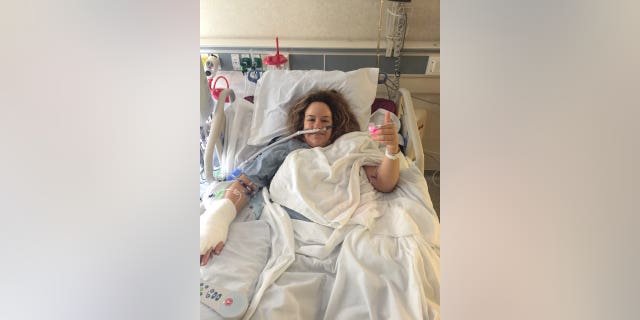 A Philadelphia woman is sharing her harrowing experience with Toxic Shock Syndrome (TSS) in the hopes that it will help spread awareness about the infection that nearly killed her. Aimee Haller Follis, 37, said she had just moved into a new home with her husband and two children last May when she began experiencing symptoms that she thought were the flu.
"Initially I thought I was just rundown from all of the craziness that happens when you move," Follis told Fox News. "But the fever got higher and higher and higher."
Follis said when she was admitted to the hospital, her fever had spiked to 106.8F, and she had become lethargic, dehydrated and her vision was affected. Doctors quickly realized that she was septic and knew she was danger of organ failure, but it wasn't until several hours later that they pinned down the cause.
MOM HONORS STILLBORN DAUGHTER AND UNBORN BABY IN GLITTER RAINBOW MATERNITY PHOTOS
"They kept saying 'Do you have any open cuts, did you have surgery recently?'" she said.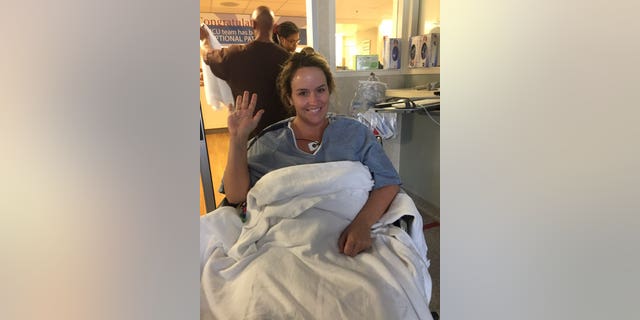 Finally, when they asked when her last period was --which was about four or five days prior to when her symptoms started -- someone suggested the possibility of TSS.
TSS is a dangerous, sometimes fatal illness caused by bacterial toxins. It's primarily linked to menstruating women who use super-absorbent tampons, but the infection can affect people of all ages, including men, children and postmenopausal women.
"They got the on-call OB-GYN to do a physical examination and that's when he found the actual infection in my cervix," she said, adding that nobody on staff had seen a TSS infection before. "I said 'what are you talking about?' I didn't know how severe it was and I credit that to the doctors in the emergency room."
Follis said a surgical procedure followed and she was given three different antibiotics and medication to address her dangerously low blood pressure. She was given fluids and moved to the hospital's ICU for five days, where she was told that there was a possibility that she could die, or face paralysis and an array of other complications as a result of the infection.
Follis was given her last rites twice, and her family was told to gather to say goodbye. After five additional days in the hospital's stepdown unit, the infection cleared. Doctors never found a tampon or any material that could have caused the infection, which is why Follis is imploring others to listen to their bodies.
MICHIGAN COUPLE WITH 13 SONS WELCOMES NUMBER 14
"Pay attention to your own body," she said. "I knew I was sick – I was doing all the right things but still getting rapidly worse. It could've been too late for me but thank God, it's not. Always question something if you're unsure."
Following her release, Follis continued to deal with health complications including hair loss, vision issues, muscle memory and peeling skin. She said she didn't realize that after being released she could continue experiencing symptoms. She followed up with her doctor who helped walk her through the recovery, but learned that there is no real timeline for when it will end.
While her hair is growing back and she considers herself to be well today, Follis did suffer a miscarriage at around 10 weeks. She said the miscarriage wasn't clinically linked to TSS, she believes it's her body's way of telling her that it wasn't healed or ready yet. Through it all she said her support group, which started on Facebook, helped to get her through her toughest moments. She's also shared her story with the Begin Again Foundation in hopes of helping others.
"There's something to be said for modern medicine, of course, but also for family and support systems," she said. "I really think the power of positivity was certainly unexpected, but helpful to me in my recovery."