Mom spots daughter's eye cancer after noticing odd glimmer in photo
An Oregon mother's careful attention to detail may have saved her then-2-year-old daughter's life after she noticed an odd glimmer in her child's eye while looking at a photograph.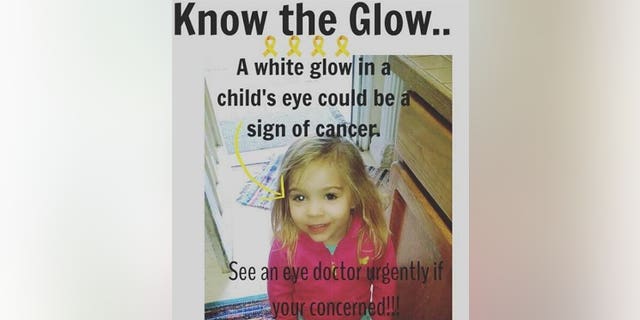 "I knew something was wrong with Gracie because her eye would be glowing, and it looked like she had a lazy eye," Elly Smith, of Oregon, told SWNS, of her now 5-year-old daughter. "I made her an appointment the day I noticed it and her doctor referred us to an eye doctor. I could tell something was wrong there and noticed the doctor's chest getting red – I was just asking what was wrong."
MOM WHO LOST ARM, LEGS AFTER DOG BITE RAISES AWARENESS ON DANGERS OF SEPSIS
Smith said that in May 2016, doctors found several tumors in Gracie's eye, and diagnosed her with retinoblastoma. The cancer starts in the retina, and is the most common type of eye cancer in children, according to the American Cancer Society. If the tumors are not treated, they can grow and fill the eyeball causing other symptoms including more tumors, pressure in the eye or glaucoma.
WOMAN LEFT PARTIALLY PARALYZED AFTER NECK CRACKING TRIGGERS STROKE
Gracie was seen by specialists at Wills Eye Hospital in Philadelphia, who determined the best course of action would be to remove her eye and eventually replace it with a prosthetic one.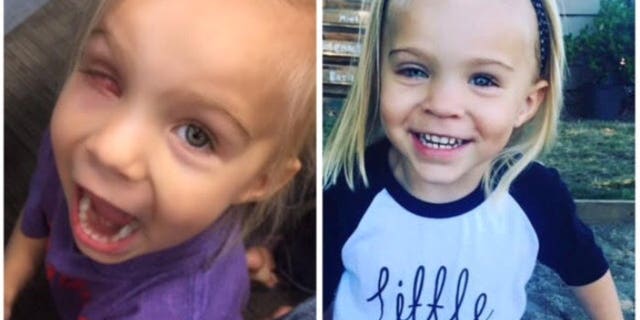 One of the difficult parts of the diagnosis was determining how to tell their toddler in a way she could understand it, Smith said. Gracie underwent eye removal surgery on June 1, 2016, and began chemotherapy two weeks later. Three months after surgery, she received her prosthetic eye, SWNS reported.
CLICK HERE TO GET THE FOX NEWS APP
"Gracie was fine with it," Smith, who said her daughter has made a full recovery, told the news outlet. "She is so resilient. When they make the eye you get to choose something to put on the top so you know which is the top of the eye – Gracie chose a horse."