Mom of college athlete with terminal brain cancer updates on daughter's status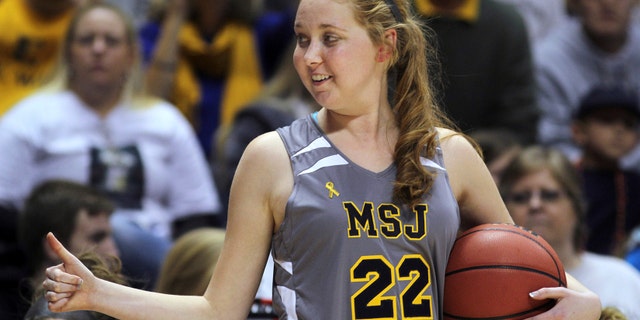 The mother of Lauren Hill, the Mount St. Joseph basketball player whose fight with terminal brain cancer has put her in the spotlight, updated the Lauren's Fight for a Cure Facebook page on her daughter's status.
On Sunday, Lisa Hill said that Lauren sleeps about 12 hours a day now and her appetite is decreasing. The 19-year-old has had increasing issues with swallowing, and her caregivers must cut her food into bite-size pieces to prevent choking.
According to the Facebook update, Lauren's pain pump was increased again to help with headaches and body aches.
Upper Deck created a Lauren Hill trading card, with proceeds benefiting The Cure Starts Now. The cards are $10, and all proceeds benefit The Cure Starts Now, a foundation dedicated to finding a cure for children with brain cancer.
"Lauren has been super excited about the trading cards and shows it off when the opportunity presents itself," Lisa wrote.
"She still has a sense of humor even if her legs give out and she falls," her mother said on Facebook. "My favorite quote of the week.... 'I didn't fall, I gracefully assaulted the floor.'"
Hill has Diffuse Intrinsic Pontine Glioma (DIPG), a terminal, inoperable form of brain cancer. Doctors told her last fall that she likely would not live past December. Mount St. Joseph, where Hill attends school, petitioned the NCAA to move the team's first game to an earlier date so Hill would have the chance to play.
As her medical care has increased, Hill told Local12.com that she worries about leaving her family. She told the news channel that she fears they will wake one morning and find that she isn't breathing.
"Day by day, I hope my message has resided through everyone— that just even more that it's precious every amount of time you get with someone, no material item matters," she told Local12.com. "Every moment you get with someone is a moment that [is] blessed, really blessed."
In November, Hill led a campaign that raised over $176,000 for Cincinnati Children's Hospital.