Mom nearly paralyzed after tripping over dog in middle of night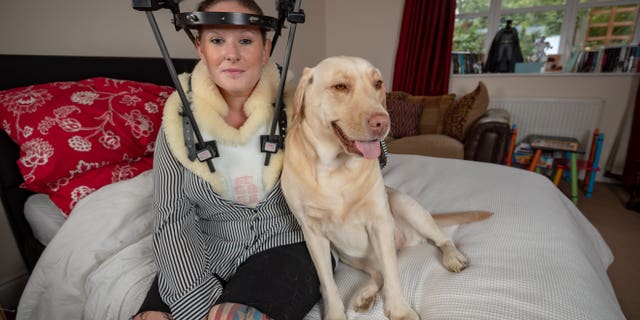 A mom was almost paralyzed after tripping over her dog and falling down the stairs in a freak accident.
Bexx Hunt (corr), 28, broke one of the vertebrae in her neck after tumbling over golden labrador, "Tequila," when she got up in the night to use the bathroom.
She was told by doctors that if the break had been in a different bone, she would have been left paralyzed.
Hunt must now wear a halo neck brace screwed into her skull for the next three months while her injuries heal.
"It was just something you would never expect. I got up in the night to go to the loo and the next thing I was at the bottom of the stairs having taken a huge chunk out of the wall," she said. "I had fallen over the dog who was sleeping at the top of the stairs - she had no idea what was going on. I had no idea how badly I'd injured myself, it must have been the shock or the adrenaline that left me able to get back on my feet and back to bed."
OHIO BOY, 5, TESTS POSITIVE FOR METH AFTER EATING HALLOWEEN CANDY
Hunt's partner Neil Morby, 44, slept through the fall, despite her calling for help from the bottom of the stairs.
She somehow managed to get back up the stairs to bed, only realizing the extent of her injuries the following morning.
"It was only when I woke up that I felt my head stuck to the pillow," Hunt said. "I tried to turn it to look at my partner but I just couldn't move it. It was like having a dead leg but it was my whole head. I used my hands to move it to the side and heard a massive crunch, it was terrifying."
Morby, a project manager, quickly called paramedics who rushed to the couple's home in Great Waldingfield, Suffolk.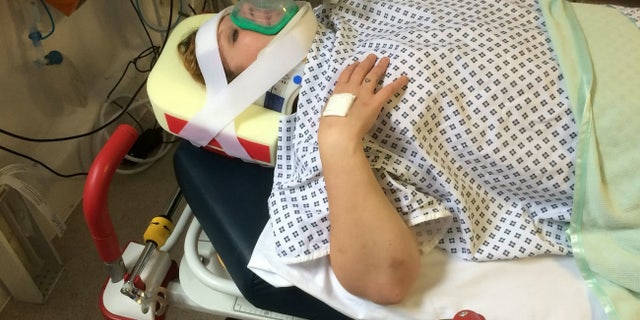 Hunt, mom to 4-year-old Joshua, was strapped to a backboard and taken to West Suffolk Hospital where her injuries were assessed.
But when doctors realized she had broken her C2 vertebrae, they immediately transferred her to Addenbrooke's Hospital in Cambridge for specialist care.
"I fractured my C2 vertebrae and apparently if it had been number 3, 4 or 5, I would have been paralyzed," Hunt said. "It was very close. I am incredibly lucky. The success rate of the halo is fantastic so I'm hoping that I shouldn't need any further surgery or anything."
INDIANA BOY, 2, LOSES LIMBS TO MYSTERY BACTERIAL ILLNESS
"It's just a bit of a long road to recovery while I build the muscles back up in my neck and the bone heals," she said. "The frame weighs 7 and completely changes your center of gravity so it's taken some time to get used to it. But it could have been so much worse, I'm just grateful that I should be able to get back to normal."
Hunt, who works in sales, is now recovering from the fall at home - with pooch Tequila, who she insists isn't in the doghouse.
"I'm fairly sure she didn't trip me up on purpose," she said. "She doesn't look like a killer - but she has looked a little sheepish since. To be honest, I think the wall ended up coming off worse than me, I left a huge dent in it."
Hunt wants to thank medical staff who helped her following the freak accident on September 30.
"They couldn't do enough for me and made one of the worst days of my life bearable," she said. "They answered any question and kept me informed. Most importantly they allowed themselves to have a joke and a laugh which made the whole day so much easier. I think you have to have a sense of humor through things like this, it really could happen to anyone. I just want to say thank you to everyone who helped me."
Hunt is now fundraising for the East of England Ambulance Service.