Missouri mom warns about danger of hot slides after girl, 4, suffers second-degree burns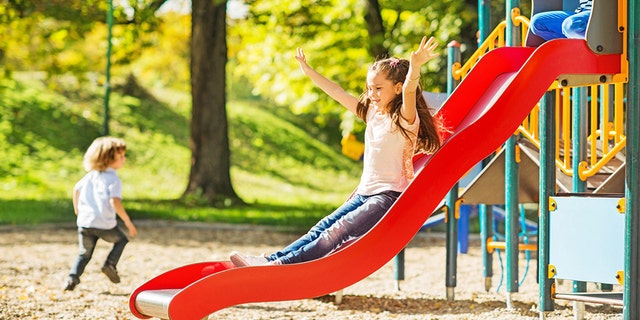 The sun can burn in more ways than one, a Missouri woman is warning after her 4-year-old daughter suffered second-degree burns on her thighs while sliding down a hot plastic slide.
Dawna Wright, who said the "frightening" incident happened over Memorial Day Weekend at John Anderson Park in Grandview, is sharing her daughter's story as temperatures continue to spike across the U.S.
Her daughter, Asia, had been playing in water at a splash park when she suddenly turned to play with other kids on a nearby playground. As Wright ran after her, she watched Asia go down the slide and "instantly burn."
"It was sad and scary. I felt so bad for her," she told KSHB. "You could tell that the skin was just gone. It just completely took her skin away."
PHOTO CAPTURES MOMENT TODDLER'S LEG BROKE WHILE ON SLIDE WITH MOM
Wright rushed her daughter to the hospital, where doctors confirmed Asia had suffered second-degree burns.
The mom shared photos of her daughter's painful wounds on Facebook, warning other parents to tell their children to avoid slides and other equipment that may overheat in the sun. Hundreds of people replied to Wright, thanking her for spreading the word.
"Praying for healing. Poor kid. Just messed up," one Facebook user wrote.
"Poor thing. I knew slides got hot but this is extreme. Hope she is doing ok. Also thanks for the post. I will be better about checking slides," another replied.
"Poor baby. I would never think they could do that, will definitely check next time we are at the park," one woman added.
TEXAS MOM'S VIRAL SUNBURN HACK WORKS, BUT IT'S NOT 'MAGICAL CURE,' DERMATOLOGISTS WARN

While Wright admits her child probably wasn't in the best attire to go down a slide, she still never expected this.
"There were babies playing all over the equipment and I put my hands on it. I had no idea that slide was hot enough to hurt her so badly!" Wright wrote on Facebook. "It truly was a horrible mistake. Obviously I would never want my children to get hurt like this."
Using a laser temperature gun last week, KSHB said the surface of the slide clocked in at around 150 degrees F in the sun. The slide was reportedly closed later that night.

Wright hopes John Anderson Park — and those across the country — will consider investing in covers to prevent equipment from burning other kids.
"I plan to have something done. I don't want any other babies getting hurt," she added. "We need to do something to make it safe for our children."