Military couple escaping Florence's path gives birth in Florida hospital
NEWYou can now listen to Fox News articles!
A pregnant military couple who evacuated as Hurricane Florence approached North Carolina gave birth to healthy twin girls in Florida just days later.
Marine Cpl. Nicholas Digregorio and his wife, Danielle, left Camp Lejeune — a U.S. Marine base in Jacksonville which was not evacuated — on Tuesday as a precaution, Fox 30 reported. Doctors were set to induce labor a week afterwards, on Sept. 18.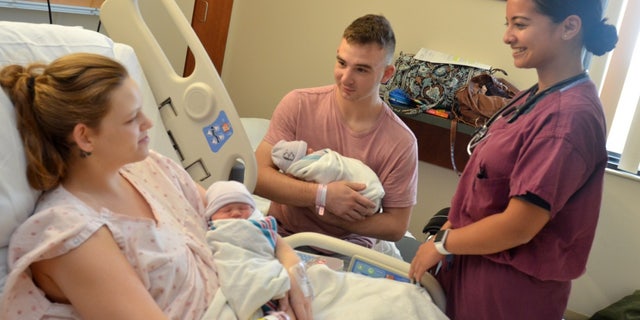 The couple drove to see family 12 hours away in St. Augustine — a long ride in which Digregorio said she prayed the entire time.
"I was nervous the entire car ride, praying the entire time," she told the news station. "I was like 'Please, don't let me go into labor yet, please don't let me go into labor yet.'"
On Thursday, Digregorio went into labor and reportedly had a C-section at Naval Hospital Jacksonville. She gave birth to two twins, named Scarlett and Sadie.
The happy parents told Fox 30 they were excited to head home soon as a family.
Florence, now a tropical depression, took its toll on Jacksonville, where roughly 70 people were evacuated from a hotel after its roof partially collapsed.
At least 17 people have been confirmed dead from the storm.