Miley Cyrus latest celeb to promote gluten-free diet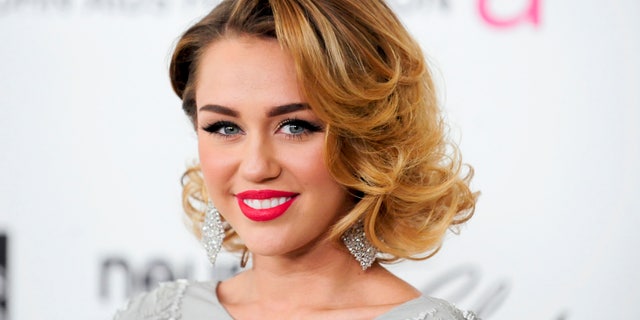 NEWYou can now listen to Fox News articles!
Miley Cyrus is the latest celeb to tout the benefits of a gluten-free diet, People Magazine reported.
"For everyone calling me anorexic I have a gluten and lactose allergy. It's not about weight it's about health. Gluten is crappp anyway," the singer/actress Tweeted Monday.
[pullquote]
Gluten-free diets are increasing in popularity these days, as more information becomes available and grocery stores start selling gluten-free products. Many celebs are jumping on the gluten-free bandwagon, helping the diet's popularity.
"The View" co-host Elisabeth Hasselbeck sticks to a gluten-free diet and has published a cookbook, Deliciously G-Free. She suffers from celiac disease, an autoimmune disorder that damages the lining of the small intestine, preventing it from absorbing nutrients important for staying healthy, according to the U.S. Library of Medicine. The damage occurs as a reaction to eating gluten, which is found in wheat, barley and rye.
Giving up gluten means giving up indulgent foods like pizza, cookies and most cereals.
Some experts say it's possible for people without celiac disease to have a gluten sensitivity, which can cause abdominal pain, bloating, diarrhea, constipation and/or anemia. But these people don't have the wheat allergies or antibodies seen in celiac patients.
Many people claim that by adopting a gluten-free lifestyle, they are able to lose weight, boost their energy or fix medical conditions such as headaches and attention deficit hyperactivity disorder.
"Everyone should try no gluten for a week," Cyrus Tweeted. "The change in your skin, physical and mental health is amazing! U won't go back!"
Recently, a group of 15 experts from seven countries proposed a new classification system for gluten-related disorders – ranging from celiac disease to dermatitis herpetiformis to gluten sensitivity.

U.S. sales of gluten-free foods grew to $2.3 billion in 2010, more than double the sales in 2006, according to Packaged Facts. The market-research firm surveyed 277 consumers of gluten-free products in 2010, and nearly half said they perceived them as "generally healthier."
"Confusion about gluten sensitivity has been rampant," said Alessio Fasano, director of the University of Maryland's Center for Celiac Research and a co-author of the proposal, published in the journal BMC Medicine. "That prompted a few of us to say, 'Let's put some facts on the table to assess what's known and what's not known.'"
The American Gastroenterological Association said much more needs to be known about gluten sensitivity before official guidelines can be devised—including how many people suffer from it and to what degree.
About 1 percent of people in the U.S. have celiac disease, a fourfold increase over the past 50 years.
In fact, Fasano noted that patients with gluten sensitivity often have even more severe symptoms than those with celiac disease, which is frequently "silent" or asymptomatic, even though antibodies to gluten are slowly damaging their intestinal tracts.
Before you make a drastic change in your diet, you should talk to your health care provider first – if you switch to a gluten-free diet and do not have a gluten sensitivity, you run the risk of becoming deficient in certain nutrients, like fiber, calcium and iron. Some gluten-free foods are higher in calories, saturated fat and cholesterol because of the added ingredients to make it taste better.
The Wall Street Journal and NewsCore contributed to this article.
Click here to read more on this from People Magazine.