Middle-age women can choose Pap smear or HPV test for cancer screening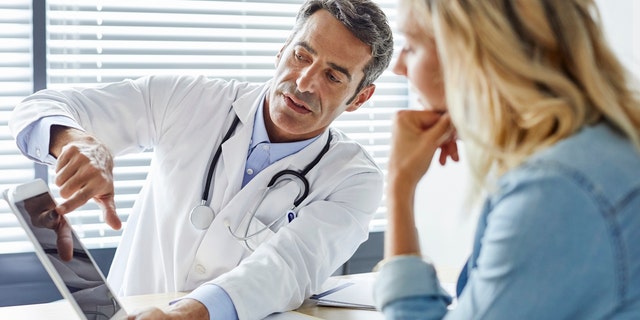 Middle-aged women can choose which test to undergo for cervical cancer screening, according to a draft recommendation from an influential group backed by the U.S. government.
Women ages 30 to 65 can choose to receive a Pap test every three years or a human papillomavirus (HPV) test every five years, according to the U.S. Preventive Services Task Force (USPSTF). The group did not previously recommend HPV testing without a Pap test.
"Women and providers should continue to recognize that cervical cancer is a serious disease that can be prevented," said Dr. Maureen Phipps, a member of the USPTF.
PREGNANT WOMAN ALLEGEDLY SET ON FIRE BY BOYFRIEND GIVES BIRTH 7 WEEKS EARLY
"Women who can be identified early through screening can have effective treatment for cervical cancer and go on to lead robust lives," said Phipps, who is also chair of obstetrics and gynecology at the Warren Alpert Medical School of Brown University in Providence, Rhode Island.
Cervical cancer was once a leading cause of cancer death for women in the U.S., but the death rate has been cut in half thanks mostly to screening, according to the American Cancer Society (ACS).
Nearly 12,800 women in the U.S. will be diagnosed with cervical cancer in 2017, according to the ACS. About 4,200 women will die of the disease.
The USPSTF last addressed cervical cancer screening in 2012, when it advised women ages 21 to 65 to have a Pap test every three years. Women ages 30 to 65 could lengthen the time between screenings to five years if they also received an HPV test at the same time.
A woman's experience does not differ by the screening; both of the tests require analysis of cells scraped from the cervix. But the Pap test - also known as cytology - looks for potentially cancerous cells on the cervix. The HPV - or hrHPV - test looks for the virus that can cause cervical cancer.
After a review of new evidence, the USPSTF recommends that women ages 21 to 29 receive a Pap test every three years. For women ages 30 to 65, they recommend either a Pap test every three years or an HPV test every five years.
DALLAS SEES 177 PERCENT SPIKE IN K2-RELATED 911 CALLS
Unless a women is at high risk for cervical cancer, the USPSTF recommends against screening after age 65.
Phipps told Reuters Health that the HPV test may not be right for younger women since infections with the virus often clear up on their own. Additionally, they recommend against screening among most older women since the risk of cervical cancer is low.
As for now allowing women between 30 and 65 to choose between Pap and HPV tests, the USPSTF writes that the individual tests "offer a reasonable balance between benefits and harms."
They caution that HPV testing leads to much higher rates of additional testing than Pap testing. They did not examine the costs of these screenings, however.
The American College of Obstetrician and Gynecologists (ACOG) still recommends Pap testing alone or in conjunction with HPV testing, said Dr. Linus Chuang, who is professor of obstetrics, gynecology and reproductive science at the Icahn School of Medicine at Mount Sinai in New York.
"I don't think this will make American obstetricians and gynecologists change practice, because they will look at ACOG as gold standard," said Chuang, who was not involved with the new recommendations. "But this will challenge it."
The USPSTF is accepting public comments on its draft recommendations until October 9, online at http://bit.ly/2jlQBpC.