Michigan couple with 13 sons welcomes number 14
A Michigan family with 13 sons added another one on Wednesday, possibly ending the chances of ever adding a girl to the mix. Jay and Kateri Schwandt, who did not know the baby's gender before birth, are still working on naming their youngest son.
"We've narrowed it down to just a couple," Jay Schwandt told ABC News. "After 13 boys, we've really had to start getting creative."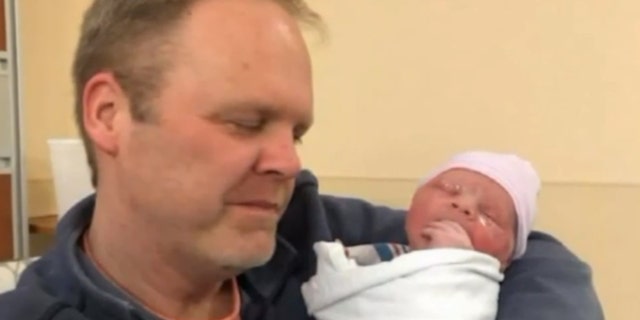 The baby arrived five days before his due date, weighing 8-lbs, 4-oz., and is 21 inches long. The couple's oldest son is 25, with each addition helping to make their family's name a little more well-known throughout the community.
SICK DOG'S 'CANCER' REVEALED TO BE CHEWED UP TEDDY BEARS
"We are crazy," Schwandt told WXMI. "I mean, to each their own, you know what I mean. We have a lot of friends that have, you know, one child or no children. You know, we get plenty of comments, you know out there online about how crazy we are and how unfair it is and everything. It's not for everybody. We enjoy it. We love having 12, now 13 kids. It's fun."
Schwandt said their newborn's oldest brothers were traveling back from college to meet him, and that his wife, who is one of 14 herself, is the "glue" that holds everybody together.
"We love this," he told ABC News. "I can't imagine not doing this."