Miami Dolphins, UM develop program to study concussions in high school athletes
MIAMI – The Miami Dolphins play their first pre-season game Thursday night at Hard Rock Stadium. But one player who won't be dodging Atlanta Falcons defenders is running back Jay Ajayi, who is still being treated for a concussion suffered last week at training camp during a full-contact scrimmage.
As football players at every level gear up for the gridiron and the start of the season, concussions—and concussion prevention—has become a major concern and a part of the new football culture.
Aside from its own concussion protocol (Ajayi has not practiced for a full week), the Dolphins have proactively initiated a first-of-its kind program for local high school students. Partnering with the University of Miami Health System, or UHealth, the Dolphins organization is paying for 15,000 Miami-Dade student athletes to undergo baseline concussion testing.
CTE FOUND IN BRAINS OF 110 OUT OF 111 DECEASED NFLERS
UHealth will gather the data on each student, when they are normal—not after a head injury. Then, in the future, if there's a massive head-to-head collision or a player slams his head on the turf, UHealth will retest that student so that doctors can see where the kid is now, and where the kid was, to then better treat him or her.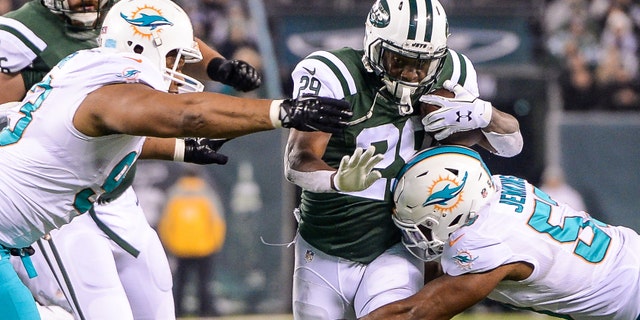 "This is a game that we love. It's a game that I played growing up and had a lot to do with who I am today," said Tom Garfinkel, president and CEO of the Dolphins. "And if we're going to promote that game, we need to make sure it's as safe as it can be."
The focus of the fast-growing awareness of concussions across the country is centered on CTE, chronic traumatic encephalopathy, the degenerative brain disease associated with head injuries, especially repetitive head injuries. The effects sometimes don't show up for years, then suddenly someone in their 50s or 60s suffers chronic dizziness, hearing problems like ringing in the ears, cognitive deficits, headaches and sleep disturbances.
CONCUSSIONS SHOW EFFECTS ON BRAIN YEARS AFTER INJURY, STUDY FINDS
Boston University recently released its own study of donated brains of former athletes. The numbers were stunning. Of 111 brains of former NFL players, 110 showed signs of CTE.
Neuro Kinetics has developed goggles, [called I-PAS™] that allows researchers at the University of Miami to rate the athlete's eye movements and eye responses, which monitors how the brain and balance systems are working and is designed to detect any signs of a concussion.
The hope is that the cost of the goggles can get low enough so that every team, college and high school can afford one, keep it on the field and when there's a possible head injury, pull that player over, put on the goggles and determine within five minutes whether that person has a concussion.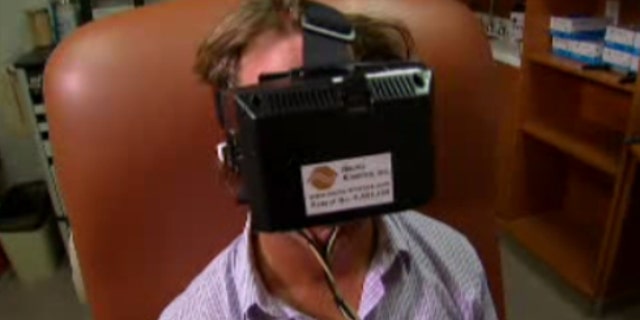 IN FIRST, A PATIENT WITH CTE BUT NO BRAIN INJURY
"There are sports that cause head injuries, but it's not just football," said Dr. Michael Hoffer, an otolaryngology professor at University of Miami's Miller School of Medicine who part of the college's concussion program. "Last year the CC will show you that female athletes had as much, had as many head injuries as male athletes and you're not going to stop all sports. You don't want to stop football, you don't want to stop volleyball, you don't want to stop soccer. What you want to do is have programs to make them safer."
On football fields around the country, all of this concussion prevention awareness has led to sweeping changes. Coach Patrick Surtain of defending state champions American Heritage High School in South Florida showed Fox News how his players only tackle to the ground now about 10 percent of the time. The new method is called "thudding it up" – players engage, make contact, stay on their feet and then stop the play after a few seconds.
"My whole model is 'stand up and practice,' learn how to practice," said Surtain, a former Miami Dolphin player. "We don't take anybody to the ground because I know a lot of concussions are caused with helmet-to-helmet contact, but it's also caused with the head hitting the turf."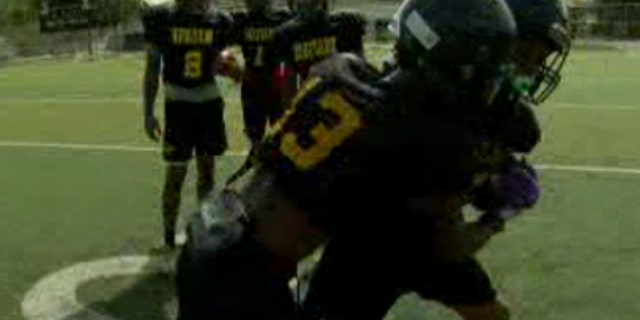 Travis Johnson, head coach of Miami Edison High School, echoes that approach.
"No question, it's a violent sport," he said. "You're asking the kids to go really hard and full speed, so there's some risk involved. But I think if you're managing the details and teaching them the right way to play the game and play the sport, then we can eliminate some of those violent situations that happen on the field."
CTE researchers say there is still more that needs to be studied about the causal relationship between sports, concussions and CTE. But, they say, today's game is far different than years long gone.
The attitude of "get back in the game and tough it out" has been replaced with the new mantra: "When in doubt, sit it out."