Mediterranean diet with olive oil, nuts linked to weight loss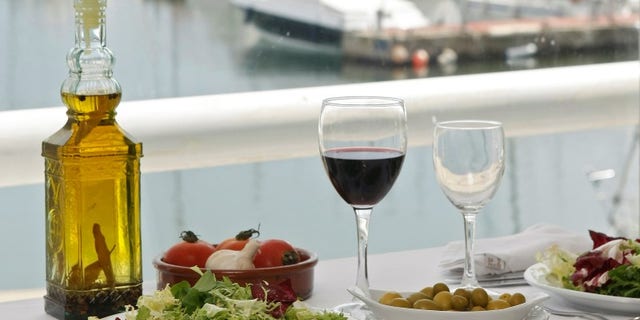 Extra "good fats" from nuts and olive oil in a Mediterranean diet may help older adults lose weight, or at least avoid gaining it, a Spanish study suggests.
"Our hypothesis is that not all fats are the same; we have to differentiate fats from vegetables and fats from animal sources," said lead study author Dr. Ramon Estruch of the University of Barcelona.
"Vegetable fat such as extra virgin olive oil and nuts help to reduce body weight when these foods are consumed in a healthy diet such as a Mediterranean diet," Estruch added by email.
A Mediterranean diet typically includes lots of fruits, vegetables, whole grains, legumes and olive oil. This diet also tends to favor lean sources of protein like chicken or fish over red meat, which contains more saturated fat.
While some previous research has linked a Mediterranean diet to weight loss and a reduced risk of heart disease and some cancers, scientists haven't conclusively proven that the diet itself is responsible, rather than other lifestyle choices made by people who eat this way.
For the current study, Estruch and colleagues randomly assigned 7,447 older adults at risk for cardiovascular disease to follow one of three diets: a Mediterranean diet supplemented with one liter (about 34 fluid ounces)of extra virgin olive oil a week, a Mediterranean diet supplemented with 30 grams (1 oz) of nuts a day, or a low-fat diet.
At the start of the study, the men were 55 to 80 years old and the women were 60 to 80. All of them had either diabetes or three or more other risk factors for cardiovascular disease such as a smoking habit, elevated blood pressure or high cholesterol.
None of them were told to restrict calories or exercise during the study.
After almost five years, people in all three groups had slightly reduced body weight but the change was bigger with the two groups assigned a Mediterranean diet, researchers report in The Lancet Diabetes and Endocrinology.
People assigned to follow a Mediterranean diet supplemented with nuts lost 0.08 kilograms (less than half a pound) more weight than the group on the low-fat diet after five years, the study found.
Those on the Mediterranean diet with added olive oil, lost 0.43 kilograms (almost one pound) more weight than participants on the low-fat diet.
Researchers also looked at waist circumference over the five years and found little difference between the people on the Mediterranean diet with extra nuts and the participants assigned to a low-fat diet. The group assigned to a Mediterranean diet with added olive oil had a slightly smaller increase in waist size than the low-fat diet group.
One limitation of the study is that it's hard for researchers to confirm how strictly people followed their assigned diets, the authors note. The changes participants reported in fat intake as a percentage of total calories was also quite small.
Even so, the findings suggest that people trying to lose weight may not want to focus exclusively on cutting calories and fat, Dariush Mozzafarian, a nutrition researcher at Tufts University in Boston, writes in an accompanying editorial.
"Numerous trials have shown that, in people trying to lose weight, high-fat diets that focus on reducing starch, other refined grains and sugars are as effective or more effective than healthy low-fat diets in the long term," Mozzafarian told Reuters Health by email.
"This trial should finally lay to rest our country's long-running fear of fat, when it comes from healthy foods such as nuts and extra virgin olive oil," Mozzafarian added.