Marta Montenegro: This Thanksgiving, Break a Turkey Leg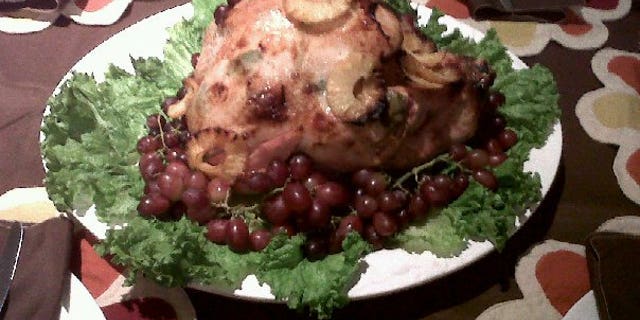 Ah, the savory smell of the family bird roasting in the oven while the sweet sounds of football entertains the expectant people of prey. But why do we so often save the turkey only for the holidays? Well, most of us don't want to get stuck with 15 pounds of leftovers. Yet, turkey is inexpensive, naturally low in fat (only 1 gram of fat per ounce of flesh) and a good source of B vitamins, potassium, folic acid and zinc. Most importantly, it's delicious – especially when done on the grill! Enter the turkey leg.
The turkey leg requires no utensils, which makes it perfect for picnics and tailgates. John Offerdahl, the former five-time All-Pro Miami Dolphins linebacker says, "My kids love the barbaric nature of eating one right off the bone. Who knows? You might find yourself ditching the big bird and serving these glorious games for Thanksgiving. Trust me… it will score a TD for T-Day! I've also paired them with another seasonal classic: zesty corn on the cob."
Recipe by John Offerdahl, the Gridiron Griller
Grilled Turkey Legs
PREP
4 turkey legs with skin on
6 cups warm water
6 tbsp kosher salt
Dissolve salt in water and pour over turkey legs. Marinate in brine 4 hours. Brining adds moisture and tenderness to the finished product.
READY
Preheat grill to medium-high heat.
Dry Rub
1/4 c. smoked paprika
1/8 c. fresh ground pepper
1/4 c. sugar
1/4 c. lemon pepper
2 tbsp celery salt
2 tbsp onion powder
2 tbsp dry mustard
2 tbsp lemon zest
Mix above ingredients in a bowl and pour onto a large plate. Remove turkey legs from brine and pat dry. Roll each leg in the dry rub mixture.
LET'S GRILL!
Coat grill grates with non-stick spray and grill legs over medium-high heat (425˚), turning as needed. Once skin is crispy and brown, brush with your favorite barbeque sauce and continue grilling until legs reach an internal temperature of 165˚. Enjoy!
Zesty Corn on the Cob
Main Ingredients
6 ears fresh corn on the cob
Rub Ingredients
1/2 c. butter, softened (substitute butter for Brummel and Brown spread to cut half the fat and calories)
1 tbsp fresh dill
1 tbsp fresh cilantro
2 tsp freshly prepared horseradish
1/4 tsp paprika
1/4 tsp black pepper
1/2 tsp salt
Peel back outer husks from ears, leaving husks attached. Clean away silks. Place corn in a large bowl and cover with water. Soak for 30 minutes along with six strings for tying. Remove ears from water and pat dry.
PREP
Combine the rub ingredients and spread half the mixture evenly over all ears. Pull the husks back up over ears and secure each with a water-soaked string.
LET'S GRILL!
Preheat grill to medium-high. Oil the grates and place corn on grill uncovered. Grill over medium-high heat for 15-20 minutes. Remove and pull back the front half of husks. Brush on remaining butter and herb mixture and serve.
Johnny Shares… Tips for a Healthier Thanksgiving
• The Thanksgiving meal can be a caloric nightmare, but there's a simple way to make it work: Eat the food in "nutritional order," starting with the leaner, lighter options. You'll still get to try a bit of everything, but you will have increasingly smaller portions of the most fattening dishes.
• Get some disposable food containers and pack any leftovers for your guests. If you keep all that food in your fridge, you'll be tempted to drop by the kitchen every half hour to fix yourself another sandwich.
• Watching the football games is great. Getting off the couch and playing for a while is actually better. But please, don't try to overcompensate for all the workouts you've missed lately. Emergency rooms are packed every Thanksgiving with those that tried turning a friendly game of pigskin into their own personal Super Bowl.
Marta Montenegro inspires people to live healthy lives by giving them the tools and strength to find one's inner athlete through her personal website MartaMontenegro.com. She created SOBeFiT, a national fitness magazine for men and women, and the Montenegro Method DVD workout series – a program she designed for getting results in just 21 days by exercising 21 minutes a day . Marta is a strength and conditioning coach and serves as an adjunct professor of exercise physiology at Florida International University.
Follow us on twitter.com/foxnewslatino
Like us at facebook.com/foxnewslatino