Marine veteran empowers kids with disabilities through fitness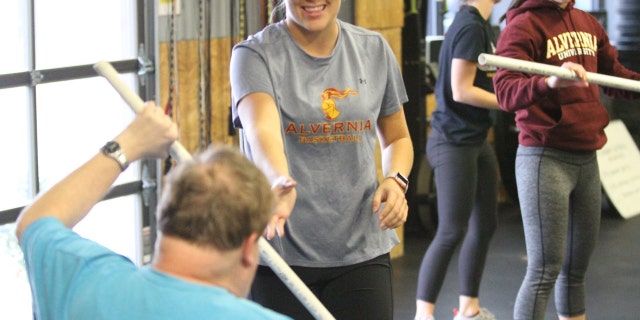 Twenty years ago, Chris Kaag was a 21-year-old U.S. Marine completing a second tour in Aviano, Italy, when he noticed his legs were dragging on a run. After nine weeks of testing at Walter Reed National Military Medical Center in Bethesda, he was diagnosed with adrenomyeloneuropathy (AMN), a genetic degenerative neurological condition that he had never heard of before.
Later, his family realized that his mother's brother had AMN, and his two younger brothers also tested positive for it. Symptoms of AMN may include progressive stiffness of the legs, speech difficulties, adrenal insufficiency, bladder control issues and sexual dysfunction. According to the National Institutes of Health, some patients may experience behavior abnormalities, vision loss, hearing issues and/or seizures.
After his diagnosis, he medically retired from the Marines holding the rank of Sergeant. He was then transferred to a specialist in Baltimore who was based at Kennedy Krieger Institute, a research and treatment center for children with disabilities.
"Every time I went down there — I was still walking at the time — and you would see kids on feeding tubes and breathing tubes, and confined to wheelchairs and confined to beds," Kaag, now 40, told Fox News. "It hit me a lot."
The specialist told Kaag he would either live a relatively normal life or be confined to a wheelchair within five years. While his brothers' symptoms have progressed at a slower pace, Kaag said a concussion he sustained while playing rugby for the Marines may have contributed to his early onset AMN, and he now relies on a wheelchair.
Initially, he participated in triathlons and raised funds for research, but he didn't like the idea of not knowing where he was sending the money to. In 2007, he started the IM Able Foundation, a nonprofit dedicated to helping build and support active lifestyles for individuals with physical and cognitive disabilities. Through the foundation, donors have the ability to see the equipment being purchased with their funds and the children they are helping.
Since then, he's worked to grow the foundation's overall goal through his Corps Fitness gym as well as through local programs around Pennsylvania, reaching upwards of 150 children. He partnered with a field coordinator at Alvernia University and established a program with the school's occupational therapy students who can complete their field work by participating in the classes.
"They see a different side of that profession and how awesome it could be," Kaag said.
While many inclusive fitness classes feature calisthenics born from Kaag's days with the Marines, some are tailored to children's specific needs and are easy to adjust. At Hogan Learning Academy, Kaag has instituted seven 30-minute classes for children on various levels of the autism spectrum.
"It's about the camaraderie and being together," Kaag said. "Some people get it, some people don't, but it's about having them move around. If they have sensory issues, we don't have music up loud, I don't whistle, it just depends on the class."
Kaag said he measures the program's success in the improvements he sees among his students. For instance, there was one student who wasn't counting along with the group during exercises and had a stoic look on his face, but now, he said, the same student joins the circle and enthusiastically counts along with others.
Next on his agenda is building an adaptive playground for kids, for which he has partnered with the Fightin Phils, the minor league organization of the Philadelphia Phillies. To help raise money for the playground, as well as adaptive equipment for fitness classes, IM Able hosted its fourth annual Bash last week and is gearing up for its 14th annual Got the Nerve Triathlon.
Kaag, who is married to wife Gretchen and has a 4-year-old son, said he knows he's fortunate to have looked at his prognosis in a positive light rather than focus on the negative. In doing so, he said he's been able to help others feel empowered by leading an active lifestyle.
"I was a 21-year-old cocky, young guy," Kaag said. "I thought I had the whole world figured out. [AMN] really changed my perception of everything and how I saw things."