Many passengers on Queen Mary 2 sickened by unidentified pathogen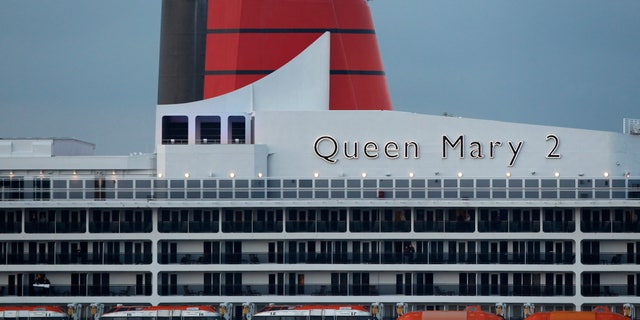 An unknown illness, suspected of being a norovirus, has sickened 194 passengers and 11 crew members aboard the luxury cruise ship Queen Mary 2, causing vomiting and diarrhoea, federal health officials said on Friday.
Earlier in the week, 189 passengers and 31 crew members on the Emerald Princess came down with the same symptoms.
The symptoms are those of norovirus, a contagious microorganism that can be acquired from an infected person, contaminated food or water, or by touching contaminated surfaces, according to the U.S. Centers for Disease Control and Prevention.
Norovirus causes an inflammation of the stomach or intestines called acute gastroenteritis, producing stomach pain, nausea and diarrhoea, and is the most common cause of acute gastroenteritis in the United States.
Each year, norovirus causes some 21 million illnesses, of which 70,000 require hospitalization. It kills about 800 people a year, the CDC says.
The Queen Mary 2, with 2,613 passengers and 1,255 crew members, is now docked in Saint Lucia in the Caribbean, according to ship owner Cunard Line, which is owned by Carnival Corp (CCL.N). The cruise left Brooklyn, New York, last Saturday and is due to return there next Thursday.
The CDC learned of the illnesses on the QM2 on Christmas Day on Tuesday, and of those on the Emerald Princess last Saturday. Vessels are required to notify the agency when 2 percent of those on board develop a gastrointestinal illness.
Although the microbial culprit remains unclear In both cases, another reason to suspect norovirus is that the pathogen "has affected a number of schools, hospitals, nursing homes and children's day care centres this winter" in the United Kingdom, Cunard said in a statement.
The UK's Health Protection Agency reports that norovirus activity in the country is 83 per cent higher than last year.
The QM2 sails regularly scheduled crossings between New York and Southampton, England, between April and late November, Cunard spokeswoman Jackie Chase said in an email. "In addition, many of our guests come from the UK."
The QM2's captain is advising passengers with gastrointestinal symptoms to report to the medical centre, Chase said. Those sickened are asked to "isolate themselves in their cabin until non-contagious. They are also asked not to proceed ashore, and any shore excursion costs will be refunded. Room service is provided to affected passengers and every effort is made to make them as comfortable as possible."
Of the 194 QM2 passengers who had fallen sick, said Chase, all but 12 had recovered as of Friday.
'Norovirus active on board'
In a post on the message board cruisecritic.com on Wednesday, a woman who said her daughter was on the QM2 said she "just received a message from her indicating that the Norovirus is active on board."
On Thursday, someone reporting being on the ship posted that "the restaurants are still full. The Captain last night recommended that people take all of their meals in the full-service restaurants rather than the buffet, but the buffet remains open as of this morning. We've been kept informed daily of the persistent cases."
Another post said: "The crew are working like crazy to service all the guests. At lunch today I noticed the hand rails on the promenade deck were wiped three times in about 1 hour."
In response to the outbreak, the QM2 crew has increased cleaning and disinfection procedures, the CDC said, and is asking passengers and crew to report cases of illness and "encourage hand hygiene."
Medical personnel are also collecting stool specimens from ill passengers and crew, which a CDC lab will analyze to make a definitive diagnosis.
When the QM2 docks in Brooklyn, an officer from the CDC's Vessel Sanitation Program and an epidemiologist will board, conduct an environmental health assessment "and evaluate the outbreak and response activities," the CDC said.
Two officers boarded the Emerald Princess, also owned by Carnival, when it arrived in Fort Lauderdale, Florida, on Thursday and are conducting an environmental assessment.
The Vessel Sanitation Program has authority to inspect cruise ships that carry 13 or more passengers and call at U.S. ports. It gave the Queen Mary 2 a perfect 100 on its most recent inspection this past summer, but found a few minor infractions, including a lack of serving utensils with breakfast pastries at a buffet.