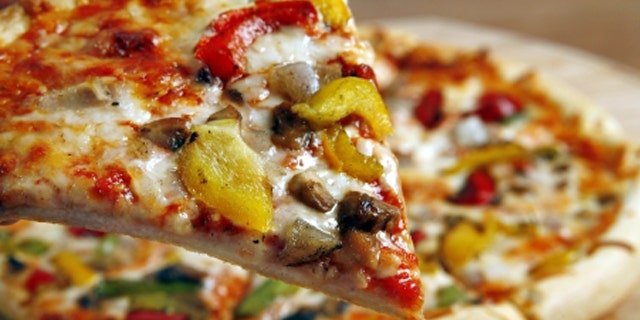 NEWYou can now listen to Fox News articles!
OK, so here's the situation: You want to cook for your buddies for no other reason than to show them that having a vegetarian meal doesn't have to be an exercise in self-denial. Of course by now your vegetarian habits are well known to them and you still receive a regular ribbing, and you don't really mind that, but you feel like it's a somewhat unfounded belief that vegetarian food isn't tasty or that it's always insufficient in substance.
We all know the most common critique about veggie food from meat-eaters is that it's too light; the absence of meat means it can't possibly fill the gap. In that case, just try serving up one of these manly vegetarian dishes below and see if your pals even notice the fact they're eating a meat-free dish.
The Conquistador
This Spanish staple, called tortilla de patatas in some parts of the world, is heavy enough to satisfy a crew of hungry guys and it's also a cinch to make and requires only very basic ingredients: potatoes and eggs. Does it get more manly than that?
Key Ingredients
- 4 large potatoes
- 6 eggs
- 1 green pepper (chopped)
- 1 onion (chopped)
- Salt
- Olive oil
Basic steps: Cut the potatoes up into chunks and steam them for 5 minutes. Set them aside. Heat up some oil over medium heat and stir in the chopped onion and pepper. Add the potatoes and cook for a few minutes until tender, but not crispy. Whisk the eggs in a bowl with a bit of salt and pepper. Pour the eggs over the evenly laid-out potatoes in the pan, cover, and cook over low heat for 7-8 minutes. Next, place a plate over the pan, flip and then slide the potato/egg patty back into the pan to cook the other side. Serve hot or cold.
John Deere Sandwich
This might not be the healthiest option, but it's delicious and guaranteed to fill the belly of any meat-eating skeptic. It doubles as a mighty hangover cure, an added bonus to be sure. Warning: This sandwich has been known to induce the food coma.
Key Ingredients
- 1 avocado
- 1 tomato
- Slices of provolone cheese
- Sourdough bread
- Tabasco
Basic steps: Make it like you would a grilled cheese sandwich, but coat the bread with olive oil rather than butter to make it slightly healthier. Add the sliced avocado and tomatoes, and grill only till the cheese is partly melted. Splash on a bit of Tabasco for an extra kick.

Smoking Barrel Burritos
It's a well known fact that men like to eat with their hands, and since burritos don't necessarily need meat to be delicious, this is the perfect choice. Pass these around at any Super Bowl party and you won't hear a single complaint.
Key Ingredients
- Cumin, chilli powder, black pepper
- 2 cans of black beans
- 1 onion
- 1 can of kernel corn
- 1 lime
- Salt
- Coriander
- White rice
- 8-12 flour tortillas
Basic steps: Mix up the cumin, chilli powder and black pepper in a pan, and then add the black beans, corn, lime juice, and coriander and let it sit for at least 30 minutes. Cook the rice and heat up the tortillas in the oven in some aluminum foil. Heat the black bean mixture over the stove for about 10 minutes. Spread some sour cream onto the tortillas, then add the rice and the hot black bean mixture. Roll them up, sprinkle on some cheese and enjoy.
___________________________________________________________________________________________________________________
More From AskMen:
Go Vegetarian for a Day
How To: Argue Against Vegetarians
Top 10: Trusted Sources of Protein
___________________________________________________________________________________________________________________
4x4 Pizza
When cooking for men you can never really go wrong with pizza, and in this case a deluge of cheese easily makes up for the absence of any meat. The artichoke hearts add even more substance, not to mention some much-needed nutrition.
Key Ingredients
- Pizza dough
- Thinly sliced garlic
- Olive oil
- Grated mozzarella
- Sliced provolone
- Grated Parmesan
- Crumbled ricotta
- Artichoke hearts
Basic steps: Prepare the pizza dough and evenly spread the olive oil and garlic on each one. First, lay out the mozzarella, then the provolone, then the Parmesan, and finally the crumbled ricotta, all of course according to how cheesy you are prepared to go. Distribute the artichoke hearts and bake until the cheese is melted and it starts to brown.
Meat-Free Manliness
Going meatless can be a relief to your body, especially if you're in the habit of eating meat every day. Give one of these recipes a shot even if you're not a vegetarian, and see if you feel the difference.