Maine bride dies of cancer days after dream wedding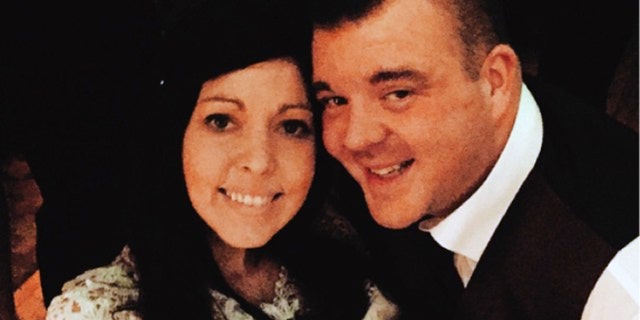 Friends and family are mourning the loss of a Maine woman who died Sunday, just days after her wedding reception which had been moved up due to her progressing cancer.
Brittney Ross Brewer, 28, married her fiancé Jared Brewer in an official ceremony at Maine Medical Center on Valentine's Day, after doctors told her that she may not live long enough to attend the wedding reception they had planned for February 27. Brewer, who was diagnosed with small cell cervical cancer in May, defied the odds and was able to celebrate with nearly 200 friends and family members at the reception she had always dreamed of.
"She still wanted to have a big party to celebrate life and see everybody for probably the last time, unfortunately," Jared told PEOPLE.
Despite being confined to a wheelchair at the reception, Brewer donned cowboy boots and danced along with her guests.
In a Facebook post Sunday, Jared's sister Janessa confirmed Brittney's passing.
"Unfortunately not everyone wins their battle with cancer… Brittney put up one hell of a fight but this disease was aggressive and rare," the post read.
"While Brittney may not have won her battle with cancer she will live on forever within our hearts! Jared was able to give her the wedding of her dreams and she enjoyed every minute of it! Brittney was a living, breathing angel... who now has her wings!"
Brittney had chronicled her medical journey on a blog, and her family had set up a GoFundMe page to help cover medical costs of her treatment. She had written of her wish for a wedding in August pending the news that her cancer would be in remission by then, and of the disappointment in finding out that wouldn't be possible.
"We are told treatment will only prolong my life. There is no 'cure.' We don't accept this. We will fight together for our miracle. And in the mean time [sic] we will get married. On February 27, 2015 I get to marry my very best friend and I couldn't be happier!" Brittney wrote earlier last month.
The couple had met while working for the Corrections Department in Portland, and began dating in April 2012.
As her cancer progressed, many of their former coworkers in the police and fire departments donated their sick days so that Jared could spend time with Brittney without losing pay, PEOPLE reported.
According to The University of Texas MD Anderson Cancer Center, small cell cervical cancer and large cell cervical cancer are aggressive forms of a larger group of tumors called neuroendocrine cancers, that make up a rare subtype of cervical cancer. Approximately 100 new cases of small cell or large cell cervical cancer are diagnosed in the U.S. each year.