Liberia's Ebola lessons: Watch closely and explain frequently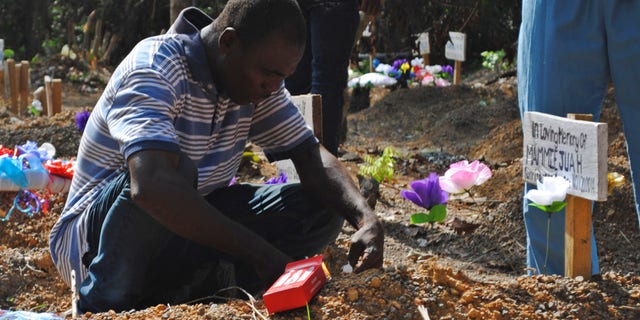 Seven months after Ebola paralysed Liberia's capital, Friday marked 21 days since the country registered a case of the virus - offering lessons to its neighbors on the importance of surveillance and education in beating the deadly epidemic.
At the peak of Liberia's outbreak, the world watched in alarm as patients died on the pavement outside hospitals in the capital Monrovia while the government failed to build treatment centers and recruit staff fast enough.
With hundreds of new Ebola cases each week, overstretched officials worked hard to respond to the unprecedented epidemic.
By January the country was just days away from declaring its ocean-front capital free from the virus.
Then officials discovered an itinerant charcoal trader had brought it back to the sprawling suburbs.
A series of mistakes in the immediate aftermath of her arrival in St. Paul's Bridge, mostly by frightened patients, led to more than 100 contacts dispersed across three counties. Health officials intervened quickly to address them, preventing another major flare-up of the epidemic.
It required "a combination of detective work and an almost military element," said Dr. Philippe Maughan, senior operations administrator at the humanitarian branch of the European Commission. "Getting from 100 to ten cases is much easier than getting from ten to zero."
Liberia has accounted for more than 4,000 of the 10,000 dead from Ebola across West Africa. It will not officially be declared Ebola-free by the World Health Organization (WHO) until it goes 42 days without a case.
But the 21-day period is important because it spans the incubation period of the virus. And last week the country released its last known patient, a resident of Monrovia's riverside St. Paul's Bridge community where the virus once spread quickly among narrow streets.
A massive influx of international aid, including crucial U.S. military assistance, helped Liberia to turn the tide of the outbreak.
But, notes Tariq Riebl, Oxfam's Ebola response manager in Liberia, "What got us to the endgame is that communities took things into their own hands."
FIRST RUNNING, NOW REPORTING
Liberian health reports reviewed by Reuters show the behavior of some residents of St. Paul's Bridge was partly behind the explosion in contacts.
Among the most notorious incidents was a policewoman, referred to only as "VZ" in official reports, who helped her son skip quarantine. In another incident, an Ebola-positive man evaded officials and remained at large until he was stabbed in a robbery in Monrovia's Red Light District, leaving a trail of police officers and gangsters at risk of contamination.
"They did not trust anyone and did not believe they were carriers of Ebola," said Reverend John Sumo, head of social mobilization in the Ebola response, adding the problem was exacerbated by a leadership struggle in the local community that distracted officials from providing support to families and food to those quarantined, the reports showed.
When alarming reports began to circulate, government and international health officials quickly provided faster and closer surveillance, as well as prioritizing the education of locals about the disease.
They worked with police officials, village chiefs, elders and international aid workers to get people talking to each other, and also appointed a local "contact tracer" - responsible for tracking down people close to the latest cases - for blocks of the St Paul's Bridge community.
Thanks to this success, Liberia's last eight cases all came from established contacts, the aid officials said.
Oxfam's Riebl noted that in recent months the rising number of Ebola patients referring themselves as authorities had more success in engaging communities.
By contrast, although the epidemic is waning in neighboring Sierra Leone and Guinea, contact tracing there remains weak. Last week, only 14 percent of new cases in Guinea came from established contacts and resistance to healthcare workers is commonplace.
However, even if Liberia is declared Ebola-free, imported cases are possible from the region's poorly-policed borders where communities that have not so far been exposed to the disease still have misconceptions about it.
The World Health Organization also warns that only 40 percent of non-Ebola health facilities in the capital have an effective system of "triage" – the process by which highly-contagious Ebola patients are safely identified.
"It is important to invest in preparedness for a possible reappearance," said Dr. Matshidiso Moeti, WHO's regional director for Africa.