Latinos Are Three Times More Likely Than Whites to Contract HIV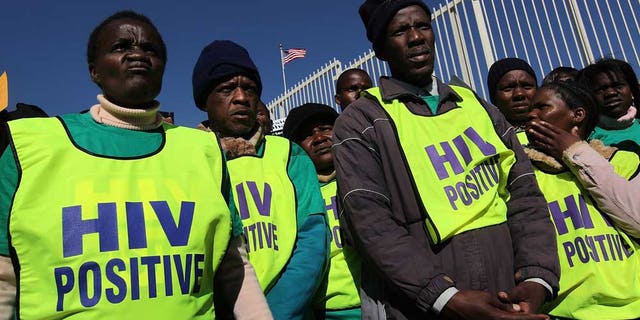 Poverty, social stigma and apathy toward HIV infection are some of the reasons why Hispanics are three times more likely than whites to contract the incurable and sometimes fatal virus, according to a new report released by the CDC.
The Morbidity and Mortality Weekly Report , released to coincide with today's National Latino AIDS Awareness Day, indicates HIV is a serious threat to the Latino community.
"We cannot allow HIV to gaining any more ground in the nation's fastest growing minority population," said CDC spokeswoman Nikki Kay.
The study, which analyzed data from 37 states and Puerto Rico, found one in 52 Hispanics, or 1.9 of the population, are at risk of getting AIDS. For whites, the figure fell to one in 170, or 0.59 percent.
The reasons were social and economic, but a general lack of concern for the virus is also why Hispanics are more at risk, the study says.
AIDS provoked hysteria decades ago when it came into the national scene. But recently, as fatality numbers began to subside because of improved treatment, Hispanics and other groups started showing a lack of concern, Kay said.
The report notes most new infections in the Hispanic community are among gay men – they account for more than half of all new HIV infections in 2006. But the CDC notes that heterosexual men are also at risk.
Fear of stigma and discrimination, particularly among gay Hispanic men, may be a factor as well, because those infected will not want to seek necessary treatment, the CDC says.
"Data released by CDC today underscore harsh truths that all Latinos and Latinas face when it comes to HIV: the lifetime risk of being diagnosed with HIV among Latinos is 1 in 36 for males and 1 in 106 for females," said Kevin Fenton, director of the CDC's National Center for HIV/AIDS, Viral Hepatitis, STD and TB Prevention. "Clearly, this risk is unacceptable."
The CDC recently expanded its HIV testing and awareness efforts. They are also working with at least three national Latino organizations for better outreach efforts in the Hispanic community.