Kansas mom battling breast cancer ignores doctor's abortion advice, celebrates healthy baby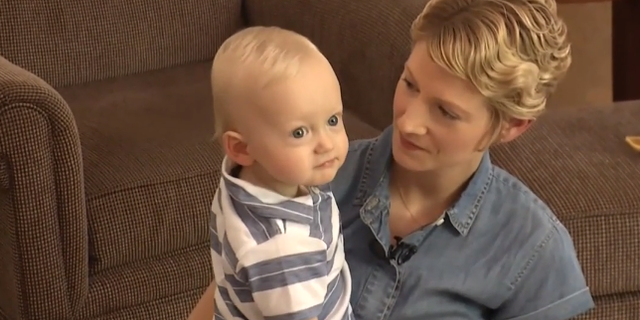 A Kansas woman who was diagnosed with breast cancer just days after she found out she was pregnant with her second child will celebrate her son's first birthday next week.
After getting the news, Stacey Johnson, of Leawood, Kan., was told she should consider abortion.
But she refused.
"Understanding that my case was unique, but not fully understanding all the options, this was a scary first opinion," Johnson, a neonatal nurse, told the University of Kansas Cancer Center.
Johnson, 31, then got a second opinion from Dr. Lauren Nye, an oncologist with the cancer center, who discussed options that did not include abortion.
According to the American Cancer Society, "pregnant women can safely get treatment for breast cancer," though the society notes that the "types of treatment used and the timing of treatment might be affected by the pregnancy."
Pregnant women with breast cancer can undergo chemotherapy treatment, according to the society, as long as treatment is given during the women's second or third trimester. Surgery is typically a safe option as well.
"I had ultrasounds every 10 days during chemotherapy to monitor the baby's growth and blood flow. They tailored my treatment plan with two patients in mind: me and my baby," Johnson told the cancer center.
While Johnson said she's "been through the ringer" -- she underwent a single mastectomy and chemotherapy while pregnant -- she doesn't regret her decision.
"I had someone else's life to care about," Johnson told KCTV-5, referring to her nearly 1-year-old son, William.
After giving birth to William on May 30 of last year, Johnson continued chemotherapy and began radiation treatment, which she recently finished. Once she completes her targeted therapy treatment this summer, Johnson hopes to have breast reconstruction surgery.
"My family needs me," Johnson said, who is married and also has a 3-year-old daughter named Reese.
"Your perspective changes when you are faced with mortality," she added. "I have such strong support from my family and friends."