Judge officiates daughter's wedding days before cancer death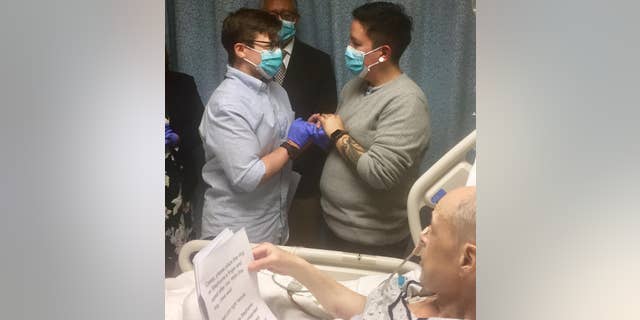 A daughter's dream to have her father preside over her wedding came true this April, when she and her partner moved their planned nuptials to his bedside so he could officiate their ceremony just 12 days before his death.
"He was always well-spoken, so thoughtful in his words," Casey Kapalko told the Asbury Park Press of her father, Monmouth Superior Court Judge Paul Kapalko.
WOMAN DIES AFTER CONTRACTING RARE TICK-BORNE VIRUS
Kapalko, 27, and her wife, Stephanie, had gotten engaged in 2016 and planned a November ceremony. But the pair moved their nuptials to May when the judge's health took a turn for the worse. He had been diagnosed with carcinoid in 2011, and in April, he was admitted to the intensive care unit at Monmouth Medical Center, the Asbury Park Press reported.
"He kept telling the doctors and nurses let's make it to May 6," Kapalko told the news outlet.
MORE THAN 60 OVERDOSE ON SYNTHETIC MARIJUANA
But the pair got their marriage license early and decided to scrap their May plans, opting for a bedside ceremony at Monmouth Medical Center on April 15 instead. Kapalko's younger sister, Christina, served as the maid of honor as family, friends and medical staff watched Judge Kapalko officiate one final marriage ceremony.
The judge died on April 27 at age 62, and Christina will run in a charity race at Yankee Stadium this Saturday in his honor, the Asbury Park Press reported.