Jason Day's wife shares heartbreaking miscarriage news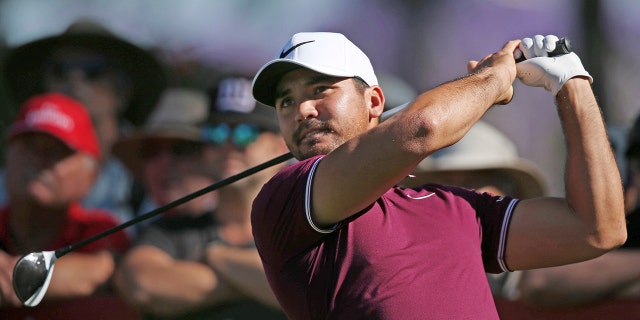 Golfer Jason Day's wife Ellie took to Instagram on Tuesday to share a heartbreaking update about her third pregnancy. Day revealed that shortly after posting a November photo of the couple's two children, Dash and Lucy, to announce their pregnancy, she found out the baby had no heartbeat.
"I snuck out the back door of my doctor, a hot, sobbing, mascara-covered mess," Day wrote to her followers. "Two and a half weeks went by with me battling my heart and brain about what was happening in my body, wondering why this wouldn't just be over."
Day said she finally lost the baby on Thanksgiving and fell into complete despair.
DAD OF 4 BATTLING ALS GIFTED $10G FROM 'SECRET SANTA'
"And then I saw the baby. Fully intact. Tiny perfect head and face and arms and legs. When I saw it I felt God so much I can't explain it. I felt seen and known," she wrote. "I felt so guilty for wondering if this baby was really in heaven before. This was a perfectly well-thought out, precious life formed in my belly, and it most certainly went straight to the arms of Jesus. I was so thankful He gave me peace and joy in the midst of the sadness."
Day went on to describe the feeling as like having a "weird scar," and said she wonders if she'll be able to have another baby, or if she will be fearful throughout the next pregnancy.
"I know for a fact that MANY of you have gone through this and obviously many have gone through or are going through much worse. My heart goes out to you in a way I could not have fathomed before. No one talks about this… we're usually so nervous to even share we're pregnant until a certain point," she wrote. "And then we just grieve in quiet and it's just kind of odd and very sad. I hope you know you aren't alone and I hope you feel God wrap his arms around you when you feel the depths of sorrow and loss."
Day's post received hundreds of comforting comments, with nearly 3,000 likes. She began the post by explaining that compelled to share their story after realizing that she has a platform to help others.