Iranian baby with heart defect to undergo surgery soon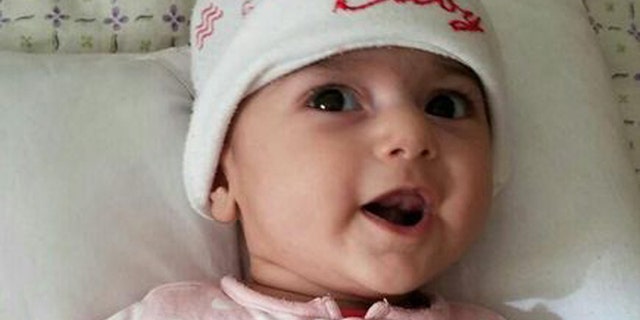 A 4-month-old girl from Iran who was temporarily banned from coming into the U.S. by President Trump's immigration order is set to have a life-saving heart surgery in Portland.
Fatameh Reshad was admitted to OHSU Doernbecher Children's Hospital on Tuesday, where she is undergoing a series of tests in preparation for her surgery, the hospital said in a news release.
The news comes a week after her family's tourist visa was abruptly canceled after Trump announced his executive order banning the entry of people from seven countries with Muslim majorities - including Iran. A waiver was granted to the family for them to travel.
HUGGIES DEBUTS SPECIAL PREEMIE DIAPER FOR BABIES WEIGHING LESS THAN 2 POUNDS
Reshad underwent a procedure called a cardiac catheterization on Friday to determine the extent of injury to her lungs, which went well, according to Dr. Laurie Armsby, interim head of the Division of Pediatric Cardiology at OHSU.
"The results were very encouraging. Despite the excess of blood passing through her lungs we believe we can proceed with surgical correction as planned," she said in the news release.
The girl's heart defects can be repaired by closing the holes in her heart and reconnecting the transposed arteries to the proper pumping chambers of the heart, according to Dr. Irving Shen, head of the Division of Pediatric Cardiac Surgery at OHSU, who will perform the surgery.
MOM'S POST THANKING MCDONALD'S EMPLOYEE FOR AUTISTIC SON'S TOY GOES VIRAL
If all goes as planned, Fatemeh's health care team expects her to stay in the hospital for up to three weeks.
The family of the 4-month-old chose Portland because of its proximity to relatives and because of OHSU's expertise in treatment of the heart condition.
The hospital also said the family "expresses their profound gratitude for the expert care their child is receiving and for the constant stream of support from people around the world."
The Associated Press contributed to this report.