Increasing popularity of smokeless tobacco poses cancer risk to young men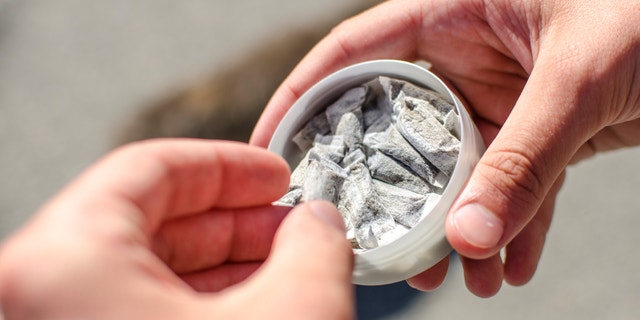 Though rates of cigarette smoking in America continue to decline, smokeless tobacco use remains popular, especially among young men -- and with potentially dangerous health consequences.
A recent report from the U.S. Centers for Disease Control and Prevention (CDC) revealed that the use of smokeless tobacco among workers in the U.S. has held steady since 2005 - with rates of smokeless tobacco use being highest among males ages 25 - 44.
"In recent years there have been declines in cigarette smoking, but there's really other tobacco products making up a large proportion of tobacco use in certain populations," Brian King, scientific advisor at the CDC's office of smoking and health, and lead author of the study, told FoxNews.com.

The dangers of smokeless tobacco use recently entered the national spotlight after the death of baseball hall-of-fame player Tony Gwynn, who died of salivary gland cancer after spending years dipping tobacco on the field.

According to the CDC, more than 30,000 people in the U.S are diagnosed with oral cancer every year. And every year, over 8,000 die of the disease, which has only a 50 percent five-year survival rate. A 2008 study from the World Health Organization indicated that smokeless tobacco users have an 80 percent greater chance of developing oral cancer than a non-user.

"Smokeless tobacco is a proven cause of oral cancer, including of the lips, throat and lining of the cheeks," King said. "…With combustible tobacco the primary cancer is lung because people are inhaling, but with smokeless use, it's primarily in the oral region, [which is] why we're seeing a lot of cancers associated with smokeless tobacco around the oral cavity."

In addition to being deadly, oral cancers often have devastating effects on a person's appearance, as surgeries to remove cancerous lesions often require removal of portions of the face. Smokeless tobacco has also been associated with an increased risk of pancreatic cancer and heart disease.

The CDC's study utilized data from the National Health Interview Survey to compare rates of smokeless tobacco use in 2005 and 2010. In 2005, 2.7 percent of U.S. workers admitted to using smokeless tobacco, compared to 3 percent in 2010.
"In terms of major findings, it primarily is that we haven't seen any change, so that is concerning to us because obviously we'd like to see it decline over time," King said. "So that finding is potentially a useful tool to inform strategies to start to address all forms of tobacco use, not just cigarette smoking."

Another recent study by the CDC indicated that 2.6 percent of the population uses smokeless tobacco on some days, or every day, while 9.6 percent admitted ever having used these products, according to data from the 2012-2013 National Adult Tobacco Survey.
King said a lack of research on the effects of smokeless tobacco, combined with fewer public health initiatives geared towards this form of tobacco use, may be contributing to the steady use of these products in the U.S.

"A lot of campaigns and interventions have focused on combustible tobacco, and smoke-free policies have proliferated," King said. "But all forms of smokeless tobacco use are really permitted in a lot of areas."

Furthermore, loopholes in laws regulating cigarette use allow smokeless tobacco to be more accessible – and cheaper to the majority of the population.

"Cigarettes are taxed pretty uniformly in every state, but in most cases smokeless tobacco is taxed considerably lower than cigarettes in most states," King said. "And we know increasing price is the single most effective way to reduce consumption, so the fact that these are available cheaper obviously increases the potential for people to use them."

As the CDC continues to monitor the growing landscape of nicotine and tobacco products, they also have an eye on new products coming to the marketplace – including spit-less smokeless tobacco, tobacco sticks, orbs and strips and tobacco products featuring kid-friendly flavors.

While evidence is still emerging on the ill effects of smokeless tobacco, and how to curb its use, one thing is certain: quitting will benefit your health.

"Given the adverse health effects associated with smokeless tobacco, quitting is beneficial and since we know there's no safe form of tobacco, if you were to quit completely that would considerably improve your health and potential for future disease and death," King said. "There are a lot of evidence-based treatments to help people quit, and those are same as for cigarettes. The FDA has also approved seven medications including nicotine replacement therapy, and those can be used for smokeless tobacco as well."