Iconic anti-smoking advocate Terrie Hall dies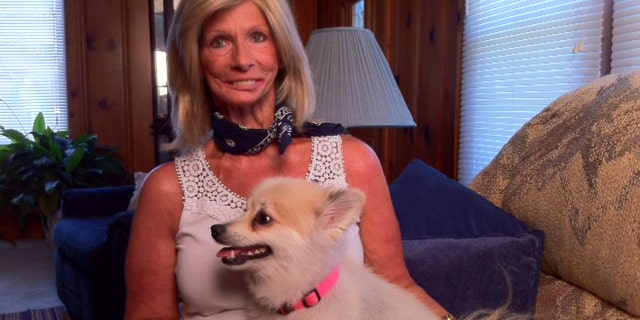 Terrie Hall, a cancer patient who made a bold appearance in a hard-hitting national anti-smoking ad campaign, has died at the age of 53.
In a graphic public service announcement last year, Hall demonstrated her morning routine of putting on false teeth, a wig and a hands-free valve for her stoma, an opening in her throat. The spot was part the Centers for Disease Control and Prevention's (CDC) first-ever national tobacco education ad campaign, and was intended to show the disabling and disfiguring effects of smoking-related illness.
Dr. Tom Frieden, director of the CDC, said he was "deeply saddened" to hear of Hall's death and considered the Lexington, N.C. grandmother a friend, as well as a powerful advocate against smoking.
"Terrie wanted to save people from having to go through the sickness and surgeries she endured," Frieden said. "She is an inspiration."
Hall, who started smoking as a high school cheerleader, was diagnosed with oral cancer in 2001, at the age of 40. She continued smoking during radiation treatments. It was only after she was diagnosed with throat cancer later that year that she quit smoking for good.
She also became a tireless advocate, speaking to schools and community groups around the country about the dangers of smoking.
"Not everybody walks around with a hole in their neck," Hall told Fox News during an interview back in July 2012. "Not everybody gets cancer. But some form, some way, somehow, tobacco can and will affect your life."
This summer, Hall's cancer spread to her brain. She died early Monday morning at a hospital in Winston-Salem, N.C., with family and friends at her bedside.
Although Hall did not live long enough to realize her dream of watching her grandchildren graduate or get married, she did get to see the results of her advocacy.
On September 9, the CDC published results of a study suggesting that Hall's ad, and other TV spots in the "Tips from Former Smokers Campaign" encouraged at least 100,000 Americans to successfully quit smoking.
"In sharing her story, she saved thousands of people from tobacco-related illness, disability, and death," Dr. Frieden said. "I am reminded of the words of a former CDC director, Dr. Bill Foege, who said that public health is at its best when we see, and help others see, the faces and the lives behind the numbers."

Before her death, Hall also got to meet some of the people she's been credited with helping. During her 2012 Fox News interview she described a woman who approached her in Myrtle Beach, S.C..
"She put her hands out to me and she was starting to cry and she said, 'I quit smoking because of you,'" Hall recalled. "Of course, I started crying and had cold chills. It was pretty powerful."