Hope for baby born via emergency C-section after mother dies in car crash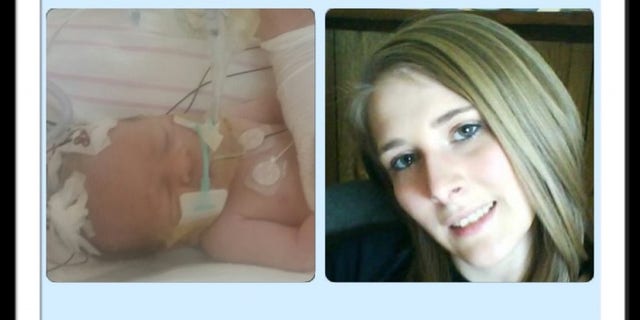 NEWYou can now listen to Fox News articles!
A baby who was saved in an emergency C-section last week after her 26-year-old mother was tragically killed en route to the hospital to give birth has begun breathing on her own. According to an update on a GoFundMe page, Maddyson Iler opened her eyes for the first time and was able to squeeze a nurse's finger over the weekend.
Maddyson's mother, Sarah Iler, was 39 weeks pregnant and dilated when she was killed on May 11, 2016. Iller was traveling with her husband, Matt Rider, when they were struck on a highway in Cape Girardeau, Missouri, the Southeast Missourian reported. Iler was declared dead at the scene, but emergency personnel performed CPR on Maddyson.
She was transported to Saint Francis Medical Center where doctors performed an emergency C-section, the news station reported. Maddyson was born weighing 4 pounds, 15 ounces, and she was immediately placed on a ventilator, which she has since come off of. The family is waiting to see if Maddyson sustained any brain damage due to a lack of oxygen during the ordeal.
"The thought never once entered my head that that baby might die," Kasandra Iler, Sarah's sister, told the Southeast Missourian. "I felt my sister gave her life to save this baby. That's how God wanted it. We've been calling her our little miracle."
Rider, who survived the accident, but broke every limb and multiple ribs, has not met his daughter as he is receiving care in another hospital. The family has been exchanging pictures, the Southeast Missourian reported.
"She had her whole life ahead of her," Patricia Knight, Sarah's mother, told the Southeast Missourian. "And now the baby has to grow up without a mother."
A GoFundMe page was set up to help cover the costs of Sarah's funeral, as she did not have life insurance.