Hog farm's neighbors awarded $50M after suing over smells, spraying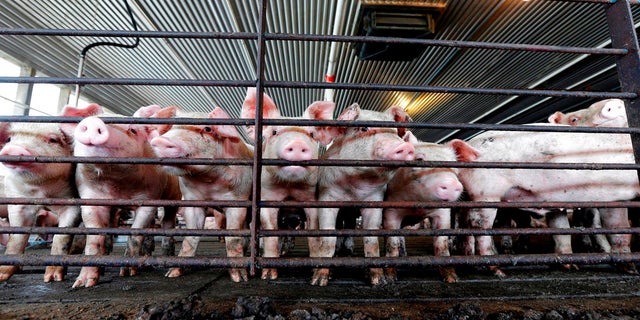 Families who live near a hog farm in Bladen County, N.C., have been complaining for decades about bad smells, flies and excessive chemical spraying.
But on Thursday, they finally scored a huge victory in court. A federal jury awarded the neighbors more than $50 million in damages, agreeing that the impact of the farm's operation was so intrusive that people couldn't enjoy their rural homes.
Instead of suing the farm's owner, the plaintiffs' attorneys aimed instead at the hog-production division of Virginia-based Smithfield Foods, a Chinese-owned company.
Smithfield uses strict contracts to dictate how farm operators raise the livestock that Smithfield owns.
Jurors awarded the 10 neighbors who sued the 15,000-head swine operation a total of $750,000 in compensation, plus $50 million in damages designed to punish Smithfield.
"We are pleased with the verdict. These cases are about North Carolina family property rights and a clean environment," said Mona Lisa Wallace, a Salisbury attorney whose firm teamed with two Texas-based firms to prepare the series of trials covering similar ground. "We are now preparing for the next, which is scheduled for the end of May."
The jurors decided that "the defendant owed [the neighbors] a standard of care in terms of trying to minimize the odors and other undesirable fallout from their processes," said Wake Forest University law professor Sidney Shapiro, who has followed the case. "Apparently the jury decided [Smithfield] knew about and disregarded all this fallout even though they could do something positive to reduce it."
Smithfield hasn't changed the locally dominant method of hog waste disposal since intensive hog operations multiplied in North Carolina in the 1980s and '90s. The practice involves housing thousands of hogs together, flushing their waste into holding pits, allowing bacteria to break down the material, then spraying the effluent onto fields with agricultural spray guns.
Neighbors say the spraying sends the smells and animal waste airborne, allowing it to drift into their homes and sometimes coat outdoor surfaces on their properties.
The case was the first in dozens of lawsuits filed by more than 500 neighbors complaining about hog operations.
But North Carolina legislators last year changed state law to make it much more difficult to replicate the string of nuisance lawsuits targeting hog operations like the one decided Thursday.
"The lawsuits are a serious threat to a major industry, to North Carolina's entire economy and to the jobs and livelihoods of tens of thousands of North Carolinians," Smithfield senior vice president Keira Lombardo said in a statement.
Although the size of the jury award is large, the result of the next trial could be more telling since the parties were chosen by Smithfield's attorneys, said Drew Kershen, an emeritus law professor at the University of Oklahoma and a past president of the American Agricultural Law Association.
"If you got a second test case, chosen by the defense attorney, which turns out to have damages like this, then you would really have to say, my goodness these are really significant claims against the industry in North Carolina," he said.
The Associated Press contributed to this story.
Editor's Note: This story initially appeared April 27. A spokeswoman from Smithfield Foods emailed the following statement to Fox News on May 31:
We've learned of the charges that the Utah Attorney General's Office has filed against members of Direct Action Everywhere (DxE) regarding last year's incident. While members of DxE committed several crimes on our property, including trespassing, breaking and entering, and theft, all prosecuting decisions are entirely that of law enforcement. We continue to fully cooperate with the authorities on this matter. You can read our original response here, and find our full response following these recent charges here. Additionally, you can learn about our industry-leading commitment to animal care here.