High school under fire for refusing to allow cancer survivor to sit with graduating class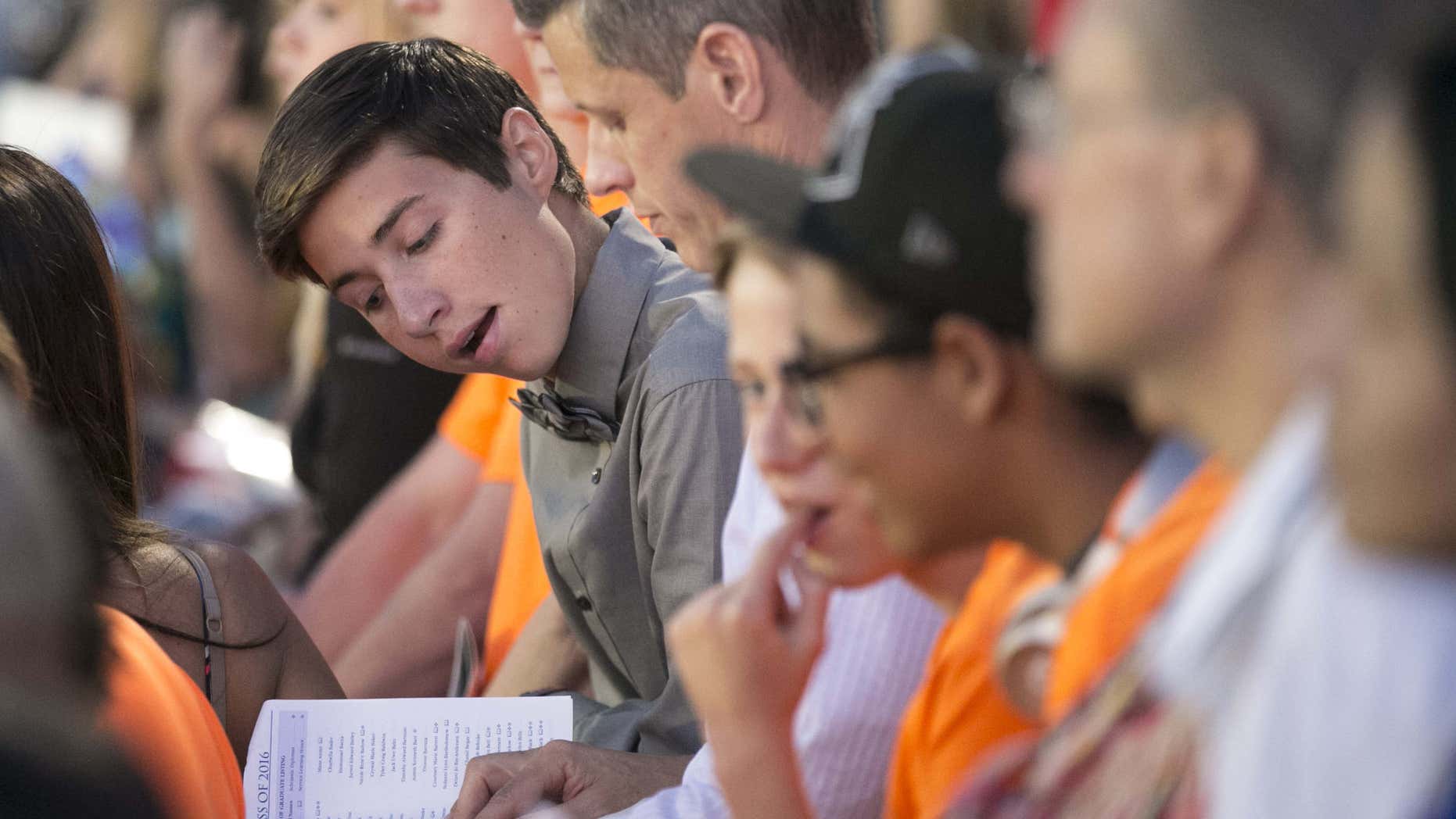 An Arizona high school has come under fire after denying a cancer survivor's request to sit with his graduation class Thursday after he worked to keep up with classes through treatment.
Stephen Dwyer withdrew from school in his junior year to receive a life-saving bone marrow transplant for leukemia. Dwyer, who is student body president, is 2 1/2 credits short of graduating at Dobson High School in Mesa and will finish in December.
A Facebook page supporting Dwyer said the teen wanted to sit on the field in a cap and gown alongside his classmates and didn't even ask to receive a diploma or walk across the stage. After numerous meetings with the district superintendent and school board members, Dwyer's request was denied.
"This is so black and white to them, they can't even see straight. They are so unwilling to budge and it just is heartbreaking," Jeannie Moore, a family friend of Dwyer's, told KTVK-TV.
Several people attended the ceremony with signs supporting Dwyer and wore orange shirts, the color representing leukemia awareness.
"They say it's a matter of policy, but, I mean, they should be able to make decisions based on circumstances, and this is a perfect circumstance to allow him to be able to do that," Jacob Martinez, a student council member, told Phoenix station KTVK-TV.
Mesa Public Schools spokeswoman Helen Hollands lauded Dwyer for being "courageous" but cited district policy.
"Each year, the district has a number of students who due to their personal hardships have not earned the minimum number of credits required to graduate," Hollands said in a written statement. "These students do not participate in a graduation ceremony before successfully earning a diploma."
Dwyer declined several other opportunities to participate in the graduation ceremony as a student leader, Hollands added.
The Facebook page says Dwyer went through chemotherapy, radiation and other treatments that left him exhausted between June 2014 and February 2015.
After that, he completed courses online until returning to school in fall 2015. He rejoined the varsity swim team and added an early-morning class to help catch up academically.
The Associated Press contributed to this report.