Healthy spring foods to help shake off winter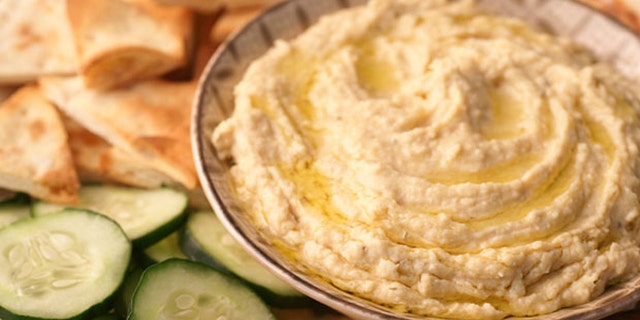 Spring is finally here, and with it comes the warm weather and vibrant foods that have me craving light, fresh flavors. Winter foods tend to be warm and hearty, which is perfect for fueling us through freezing days but tends to feel heavy by the time April rolls around. Lighten your diet and freshen up your life with nutrient-dense chocolate, fruity flavors, green salads and flavorful dips that offer just enough kick. From probiotic rich Frozen Kefir bars to popped edamame chips that are lighter than air, this list contains all my favorite healthy foods to help shake off winter and welcome in spring.
The leaves on the trees and the buds on the flowers popping up everywhere remind us that with leafy greens, healthy fats and lean proteins, we look more vibrant and feel alive. Try topping your spicy mizuna & kale salad blend with green goddess dressing, experimenting with edamame chips and pastas, or tossing a seed and fruit mix in your bag for an on-the-go snack. Spring has sprung and with these light, healthy foods you'll feel filled with new life too!
1. Nutiva CHIApple: A blend of organic apples, whole chia seeds, fruit and spices. The delicious flavors of Pure Apple, Coconut Mango or Apple Pie Spice are available in a handy squeeze pouch. Toss it in your gym bag for a post-workout boost, take it with you on a hike, or add them to your kid's lunch box. Each serving contains 800mg of Omega-3, no added sugar and 3g of fiber, for a snack that is flavorful and satisfying. Get creative and add it to your smoothie, yogurt, oatmeal, or enjoy right out of the pouch.
2. Campbell's Soup New Organic Soup: Campbell Soup Company just came out with organic soups, called Campbell's Organic. The great news is that these soups are certified organic and they are not sold in cans! They're packaged in cartons and are available in six varieties: Chicken Noodle, Sun-Ripened Tomato and Basil, Chicken Tortilla, Lentil, Garden Vegetable with Herbs and Creamy Butternut Squash. I'm amazed at the high-quality organic ingredient list and no preservatives. They're perfect served alone or paired with a sandwich or salad as a meal. The Creamy Butternut Squash flavor is perfect served chilled for spring!
3. Dr. Praeger's Super Greens Veggie Burger: This burger is packed full of collard greens, turnip greens, mustard greens, Swiss chard and kale. This nutrient dense patty is only 100 calories and is a great source of both Vitamin A and Vitamin C. Hearty grains quinoa, teff and hemp add fiber and protein to this super clean veggie burger. The Super Greens Burger is vegan, non-GMO and gluten free.
4. Lifeway Frozen Kefir Bars: With only 60 calories in each serving, Lifeway Frozen Kefir Bars are a tart and tangy superfood treat the whole family will love. Just like their drinkable kefir, Lifeway frozen kefir is all natural, probiotic, gluten-free and 99 percent lactose-free. These bars are the perfect healthy dessert after dinner or can be enjoyed as an afternoon treat in the spring sunshine.
5. Tessemaes Green Goddess Dressing: Bow down to the goddess of all dressings, this modern twist on the classic is packed with flavorful fresh herbs, real lemon juice, and a little magic. And as with all Tessemae's dressings, this one is dairy free, gluten free, sugar free, certified earth kosher and vegan. Serve this dressing drizzled on your favorite salad for a boost of fresh spring flavor.
6. ALOHA Superfood Chocolate: This treat is a gluten-free, soy-free, vegan chocolate bar that's made with organic real food ingredients. This isn't your average chocolate bar; each bar, made with 60 percent fair-trade-certified cacao, is packed with antioxidants and rich in nutrients from fruits and vegetables. It's sweetened with coconut sugar and doesn't contain anything artificial, so you can feel good about indulging without the guilt. You can enjoy this chocolate bar as a sweet mid-afternoon snack or for an evening dessert. Add it to your favorite recipes or simply enjoy it as a stand-alone treat.
7. Sabra Chipotle Hummus: This hummus is super creamy and delicious with a kick of smoked chipotle. You can enjoy it as a protein-packed topping for tacos and salads or as a substitute for mayonnaise in chicken salad or on sandwiches. This Chipotle flavor pairs perfectly with whole grain chips and raw sliced veggies for a spring snack anytime of the day. It's a fun way to add a little flavor to your spring dishes.
8. Enjoy Life Foods Seed & Fruit Mixes: This seed and fruit mix is gluten, dairy, soy and nut free. They're filled with tasty dried fruits and seeds and are perfect for snacking throughout the day or sprinkling on top of yogurt, cereal, oatmeal and salads. These are also great snacks for kids to take to school since many schools don't allow peanuts in the classroom.
9. Earthbound Farm Kale Italia: A lovely blend of organic deep greens such as tangy mizuna, mild arugula and bold radicchio, and mildly bitter baby kale makes this an easy way to start off spring on the right foot. Add this blend to your salads, fajitas, tacos or sandwiches for a meal that's full of nutrients, minerals and vitamins as well as fiber. Keep it simple and add fresh lemon juice, avocado, chickpeas, olive oil, sea salt and pepper for a spring salad or jazz it up with balsamic vinaigrette, fresh strawberries, sliced organic chicken, scallions, fresh basil, sea salt and pepper. However you choose to enjoy this new tasty blend of greens, your taste buds won't be disappointed!
10. Mangos: Ready to escape those winter blues? Mango is here to help. This superfood's bright flavor and tropical taste naturally welcome the warmer weather ahead. A 1 cup serving of mango is only 100 calories, provides 100 percent of your daily vitamin C, 35 percent of your daily vitamin A and 12 percent of your daily fiber - among a host of other nutrients - to support a healthy diet. It's the perfect stand-alone snack or foundation for a refreshing fruit salsa.
11. Salus Red Beet Crystals: This naturally sweet tasting, instantly soluble product is a pure concentrate from the juice of freshly pressed, certified organic beets. Salus certified organic Red Beet Crystals blend well with fruit smoothies, shakes, fruit juices, milk products, soup, muesli, cereals and other dishes. They are a convenient alternative for anyone with hectic schedules. Simply dilute the crystals in water or your favorite fruit or vegetable juice and serve.
12. Popped Edamame Chips: These non-GMO edamame snacks are light, air-popped, crispy chips that are free of saturated fat and gluten. They come in two tasty flavors: Wasabi Soy and Sea Salt. The wasabi flavor has a kick of hotness to it if you like spicy snacks; the sea salt flavor is light and both can be enjoyed alone as a snack or paired with hummus for a protein-rich afternoon nibble!
13. Applegate Organic Turkey Burgers: These organic burgers are made from hand-trimmed, certified organic turkey. They're juicy, low-in fat and full of flavor. They are tasty on a bun for a spring BBQ or enjoyed chopped in a salad. Applegate has a vast array of products from ready-to-eat deli meats to dinner sausages and frozen burgers that redefine "fast food" for busy families without using antibiotics or growth hormones.
14. Ellyndale Naturals Premium Avocado Oil: This may be the most versatile and healthiest cooking oil available today. Its high smoke point (approximately 520 degrees F) makes it ideal for high-heat cooking such as sautéing and stir-frying. Its rich, smooth texture makes for the perfect addition to all of your favorite dishes and a flavorful finishing drizzle for salads and other raw dishes. Made from expeller pressed avocados, this oil has healthy monounsaturated fats and Vitamin E.
15. Barlean's Pina Colada Omega Swirls: This product is filled with Omega 3's that taste like dessert! The Pina Colada Omega Swirl is great for getting kids to enjoy anti-inflammatory Omega 3's instead of giving them fish pills to swallow. You can enjoy these Omega Swirls alone by taking 2 teaspoons a day or add to your smoothie, oatmeal or ice cream for a sweet, sugar-free topping without the sugar! Trust me, there is no fishy taste in these Omega Swirls; you'll never know you're actually supplementing with eating omega 3's but you will notice the benefits such as joint, hair, skin, mental, heart health and more.
16. Explore Asian Edemame Spaghetti: If you love edemame, you can now enjoy it in the form of spaghetti! The only ingredients in this spaghetti are organic edamame and water. It's packed with 24g of protein and 11g of fiber per serving. Looks like it's time to put pasta back on the grocery list!