'Healthy' obese people still at increased risk of heart attack, study shows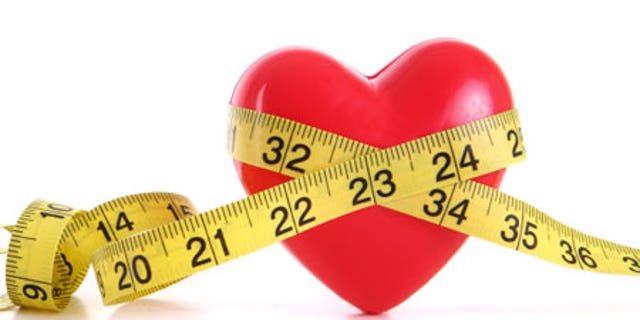 NEWYou can now listen to Fox News articles!
Maintaining a healthy body weight is essential for reducing the risk of heart disease, according to a new study from Denmark. This is true even for people who don't have metabolic syndrome (MetS), a group of risk factors for heart disease, diabetes, and stroke.
"We documented that overweight and obese individuals have an increased risk of heart attack and disease even in the absence of metabolic syndrome," said Dr. Børge Nordestgaard, co-author of the new study, published today in JAMA Internal Medicine. "In other words, even metabolically healthy overweight and obese people are at an increased risk of heart problems."
While metabolic syndrome is sometimes viewed as a single condition, it includes several components—high blood pressure, increased fasting blood sugar levels, high triglyceride levels, low "good" HDL cholesterol levels, and a large waistline. A person must have at least three of these to be diagnosed with metabolic syndrome.
Related: Learn Everything You Need to Know About Metabolic Syndrome
Mixed Results from Previous Studies
Results from previous studies were mixed, and some suggested that carrying extra weight is relatively harmless when metabolic syndrome is not also present—the so-called "healthy" overweight or obese.
The Danish researchers attempted to avoid the shortcomings of earlier studies. They examined a large population of more than 71,000 participants.
"Our study is the largest single-site study to date," Nordestgaard said. "We solely recruited people from the general population, and we excluded all with heart attack and disease before study entry, thus eliminating reverse causation as a potential problem."
Heart disease, which can make it difficult for people to exercise, can also lead to increased body weight. Excluding these people at the start of the study allowed researchers to focus on the negative effects of an unhealthy weight.
Related: Calculate Your Risk of Heart Disease Here
Unhealthy Weight Increases the Risk of Heart Disease for All
After following the participants for almost four years, the researchers found that being overweight but without metabolic syndrome increased the risk of heart attack by 1.26 times, compared to having normal weight and no metabolic syndrome. This risk jumped to 1.88 for obese people without metabolic syndrome. The results were similar for ischemic heart disease, also known as coronary artery disease.
While the absence of metabolic syndrome did not eliminate the risk of heart disease, its presence still increased the risk of heart attack in overweight and obese people by 1.70 and 2.33 times, respectively.
Even normal weight people with metabolic syndrome were 1.39 times more likely to develop heart disease during the study, when compared to normal weight people without metabolic syndrome.
Related: Visit the 20 Best Weight-Loss Blogs of 2013
Weight and Metabolic Syndrome Intimately Connected
Previous research has shown that being overweight or obese increases not only the risk of heart disease but also other components of metabolic syndrome, such as high blood pressure, high cholesterol, and glucose intolerance—strengthening the connection between body weight and metabolic syndrome.
"Much of the impact of obesity is mediated through components of MetS," wrote the authors of a commentary published alongside the study.
They also point out that many studies—including this one—define metabolic syndrome as either present or absent when it is actually based on a range of laboratory values for each component.
This variation was seen in the current study. Overweight or obese people without metabolic syndrome tended to have worse laboratory values for underlying risk factors, such as high blood pressure. This "implies that they were closer to MetS on the continuum than their leaner counterparts," wrote the authors of the commentary.
It may be that these people are on their way to developing metabolic syndrome as a result of their unhealthy weight. In fact, a 2013 study in Diabetes Care found that "healthy obesity" was a temporary state, with one-third of obese participants going on to develop metabolic syndrome within five to 10 years.
Related: Expert Tips: Weight Loss Basics
Underlying Risk Factors More Important Than Metabolic Syndrome
Given the results of the new study, the researchers say that metabolic syndrome is about as important as body mass index (BMI)—which is used to classify people as overweight or obese—in estimating a person's risk of heart disease.
"Doctors should be concerned with any overweight or obese patient, even in the absence of other risk factors," Nordestgaard said. "If metabolic syndrome is present, doctors should treat the individual risk factors rather than the metabolic syndrome per se, as risk factor treatment is evidence-based."
For people interested in losing weight, though, metabolic syndrome may be low on their list of reasons.
"Obviously your doctor is going to tell you that you need to lose weight once you're up in the overweight, and especially, the obesity range," said Amy Margulies, RD, the lead registered dietician with Retrofit, Inc., a weight loss counseling organization. "But people definitely come to us more when they're running after their grandkids and they can't keep up with them or they aren't fitting into airplane seats and movie seats."
Maintaining a health weight—which, of course, means eating right and exercising, says Margulies—is good not only for your heart, but also for your lifestyle in the long-term.