Health monitors for babies: Helpful or harmful?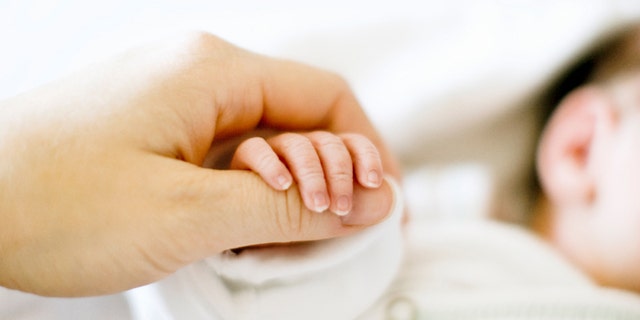 NEWYou can now listen to Fox News articles!
As any new mom can attest, once your baby falls asleep, your anxiety starts to rise. Chances are, you tiptoe into his room and check to see if he's still swaddled, lying on his back and breathing.
Now, several start-ups are hoping to allay some of those fears with health tracking devices that claim to protect the littlest of customers from life-threatening events and help their parents get more shut eye.
Yet experts say these tracking devices fall short in many ways and may give parents a false sense of security that their babies are safe and healthy.
Track your baby's every move.
First time mom Kristin Cummings of Philadelphia, PA says she never heard of the Snuza, a baby movement monitor, until she received it as a gift while pregnant with her now 9-months-old daughter. "I didn't even know these kind of devices existed but I can say it's the one thing I don't think I can live without right now."
Cummings, however, didn't start using the Snuza right away. She decided to co-sleep, a practice the company advises against while using the device because any movement can interfere with the readings.
When she eventually transferred her daughter to a bassinet at around two to three months, she admits the monitor helped to calm some of her angst.
"It has stopped me from just standing over her crib and putting my hand on her to make sure she's still breathing," she said.
Wearable tracking devices like those from Owlet, Sproutling, Mimo and Monbaby attach to the baby's foot, wrist, diaper or clothing. They can detect oxygen levels, breathing rate, heart rate, temperature, movement and sleep position and some even let you know if your baby is awake or asleep. If there's a change in your baby's vitals, the device will alert you. The devices are wireless, most use a mobile app to receive the data , and cost between $200 and $300.
Although today's health devices use the latest digital technology, strapping a monitor on your baby isn't a new idea. In the 1990s, it was common for pediatricians to prescribe cardiorespiratory monitors for babies in hopes of preventing Sudden Infant Death Syndrome (SIDS).
Yet a large clinical trial by the National Institutes of Health (NIH) found that home monitoring devices to detect pauses in breathing or slowed heart rate did not prevent SIDS. In 2003, the American Academy of Pediatrics issued a policy statement which stated that home monitors shouldn't be used for SIDS prevention.
Peace of mind or a false sense of security?
Experts say trying to mimic the same medical monitoring that happens in the neonatal intensive care unit (NICU) at home is problematic.
"Even in the hospital setting you need someone who can understand how to interpret these monitors and determine that they're false alarms or not," Dr. Carlo Reyes, a pediatrician and assistant director of emergency services at Los Robles Hospital in Thousand Oaks, CA said. "To place that role on the parent to monitor all these changes, in my opinion, is just not a good idea."
One of the biggest claims of the tracking devices is that they will alert parents if something is wrong so they can intervene immediately. Owlet, for example will show both a high and low range for the various signs.
"It will alert you when it stays in the low end for too long," said Jordan Monroe, co-founder and head of product for Owlet.
Yet it's not likely that the devices will have the accuracy or sensitivity to do that, Reyes said. Plus, their oxygen levels can drop, or their breathing will speed up, slow down or pause, none of which studies show are associated with SIDS.
Some infants who are high-risk or premature are prescribed at-home monitors, but unlike these consumer devices, they are FDA approved.
"Parents that are being marketed to are seeing it as a medical device even if it isn't an FDA-approved one," Reyes said.
Some parents may also worry that strapping an electronic device onto their baby every day—and the technology that goes with it— may cause health risks down the line. Yet for now, there's simply no data to support that.
The future of baby tracking
"In my opinion, these are the wrong parameters to monitor to prevent SIDS," according to Dr. Ruey-Kang Chang, a pediatric cardiologist and a Los Angeles Biomedical Research Institute researcher. "By the time there are changes in the baby's breathing or heartbeat, it's already too late."
With funding from the NIH, Chang is developing a SIDS monitor which will initially be a medical device for high-risk infants such as premature babies or those that are siblings of SIDS victims. The device will detect baby's sleep position and if the baby's face is covered, so parents will have time to intervene.
"We think that these events occur much earlier before the process of SIDS starts," he said.
Owlet has new products in the works too, which they hope will empower parents with more information about their babies.
"In 5 to 10 years from now, we see that every child coming home from the hospital will have a wearable health monitor on," Monroe said. "Our vision is to create something a lot bigger that hopefully one day could prevent something like SIDS."
Cummings says she will probably stop using the Snuza after her daughter's first birthday when the risk of SIDS drops, although she may still continue to worry.
"I'm going to have to find that balance of weaning myself away from it," she said.