Health department pours bleach on soup meant for homeless, cites lack of permits, food safety concerns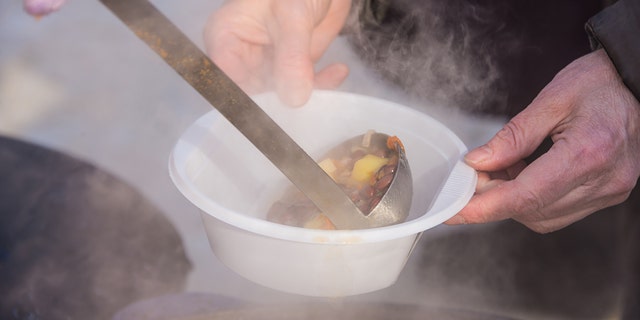 The Kansas City Health Department admitted to intentionally destroying food meant for the homeless earlier this month, citing a lack of permits and the potential danger of foodborne illnesses.
The food, which was a coordinated effort by Free Hot Soup KC, included home-cooked chili, foil-wrapped sandwiches, and soup Fox 32 Chicago reported. But on Nov. 5, inspectors shut down picnics being held across the city and poured bleach on offending foods.
"There is no question that feeding the homeless is critical," Kansas City Director of Health Rex Archer had told the Kansas City Star. "There are 43 organizations (not including Free Hot Soup KC) that have permits and do it in a safe way."
In a statement posted to Twitter, the state's health department said it had received multiple complaints about the group, and that the gatherings were not in compliance with city ordinances.
AT LEAST 150 PEOPLE WHO ATE AT NORTH CAROLINA RESTAURANT AT RISK OF HEPATITIS A
"The group organizes and volunteers to prepare food at homes and transports the food in personal vehicles to serving locations," the statement said, in part. "The food is not kept at required temperature for food safety. KCHD believes everyone, including those experiencing homelessness, deserve the reassurance of food safety practices."
Archer cited a lack of health care among the homeless population as another concern when dealing with foodborne illness.
"E. coli or salmonella or listeria can grow in the food," Archer told Fox 32. "And then you give that to homeless people who are more vulnerable, they will end up in the ER and even die from that exposure."
MAN'S FLESH-EATING BACTERIA INFECTION POTENTIALLY TIED TO BATHROOM RENOVATION
However, some volunteers allege that the bleach did not deter hungry participants from rummaging through the tainted food.
Nellie McCool, a Free Hot Soup organizer, said the group will not be intimidated. Others compared it to having a picnic in the park with friends.
"We're intending to come back," she told the Kansas City Star. "They can expect us to fight for this right to share."
The move is similar to a 2016 incident involving meat meant to be barbecued and given out to homeless individuals. Organizers said a health inspector ordered over 700 pounds of the meat to be thrown out and covered in bleach.