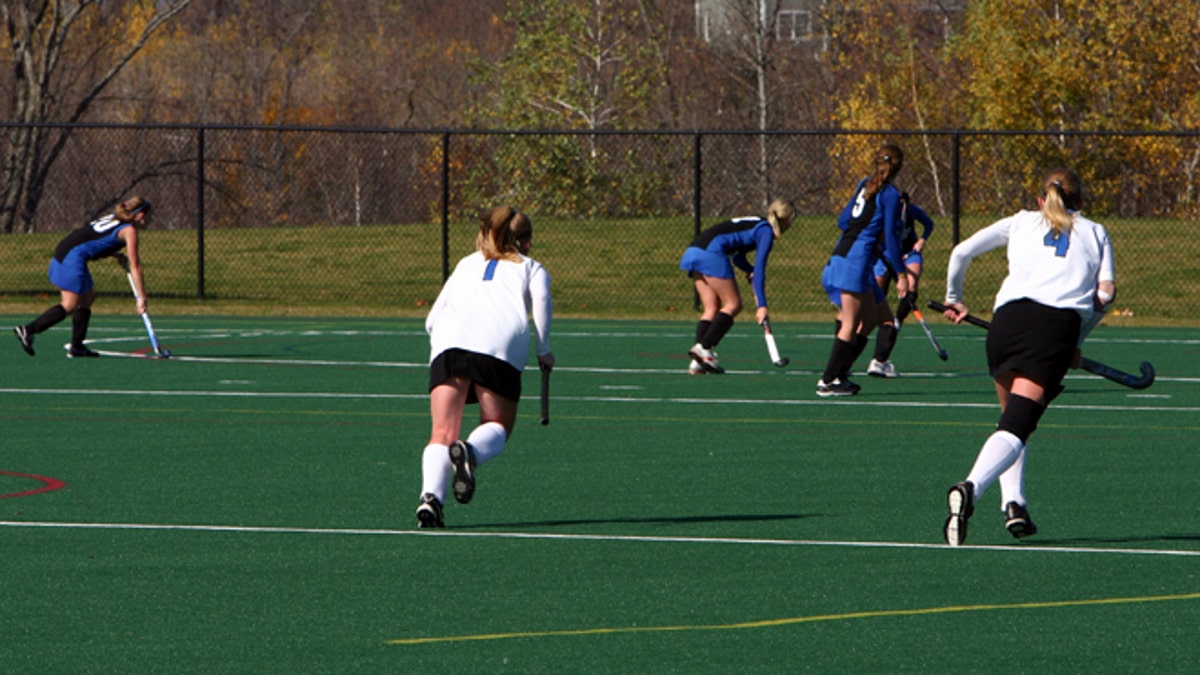 Head, face and eye injuries happen regularly in women's collegiate field hockey and can often lead to concussions, a study suggests.
Researchers reviewed injuries reported by National Collegiate Athletic Association (NCAA) schools sponsoring women's field hockey teams and found most of these types of injuries involved contact with a ball or stick. Concussions accounted for about 43 percent of injuries.
With the ball and stick being as hard as they are, it is not surprising that when lifted off of the playing surface, even when legally done, this can cause significant injury said lead study author Dr. Elizabeth Gardner, a sports medicine researcher at Yale University School of Medicine.
To gather evidence for assessing possible protective measures, like helmets or goggles, Gardner and colleagues reviewed NCAA data on injuries for school years starting in 2004 to 2008. The data were based on reports from about 9 percent of roughly 250 NCAA schools with women's field hockey teams.
The researchers measured injury rates against what's known as athletic exposures (AEs), which occur each time one athlete participates in one practice or game that has the potential to result in an injury.
Over the course of the study, there were 7,944 practices or games, each involving between 5 and 35 athletes per session, for a combined AE of 148,705.
There were 150 traumatic injuries during the study period, including 112 to the head or face, 15 to the nose, 13 to the mouth and 9 to the eye.
That amounts to an overall injury rate of 0.94 per 1,000 AEs.
Almost half of the injuries resulted from contact with an elevated ball, while about 22 percent were due to contact with a stick and 25 percent happened in a collision with another player.
While most injured players returned to the field during the current season, 10 percent of injuries were severe enough to sideline players for the rest of the season. Three players with season-ending injuries had concussions, while five of these injuries involved the eyes or cheeks.
Among the majority of players with concussions who returned to the game during the current season, 77 percent were back in action within 10 days of their injury, while the rest needed up to 20 days.
After concussions, facial contusions and lacerations were the most common injuries, and these were most often caused by contact with an elevated ball. About 6 percent of athletes with these facial injuries missed at least 10 days of play before returning to the field.
One limitation of the study is its reliance on the small fraction of NCAA schools reporting data on women's field hockey injuries, which might make injury rates in the study different from the actual injury rates for all college players, the authors acknowledge in the American Journal of Sports Medicine.
In addition, the NCAA only records injuries that resulted in lost playing time, the researchers note.
While the study highlights the need to ensure that current playing rules are enforced to minimize the risk of concussions and other injuries, the findings aren't enough to support changing rules or modifying requirements for protective gear, Gardner said by email.
Overall, the available evidence suggests that the incidence of head and face injuries is not alarmingly high and the majority of these injuries are not severe, Dr. Swarup Mukherjee, a researcher at Nanyang Technological University in Singapore, said by email.
But there is still room for improvement, said Mukherjee, who wasn't involved in the study.
Field hockey involves far less protective gear than other similar sports like ice hockey, where the required list of equipment includes helmets, face masks, mouth guards, gloves and shin pads, Mukherjee said. For field hockey, only a mouth guard is mandatory and head wear is only permitted for medical reasons.
These are sensitive and vital body parts and an injury can lead to long-term and even permanent damage, Mukherjee said. Protection is of paramount importance.