Great Value, Bountiful Harvest among frozen veggies recalled for possible listeria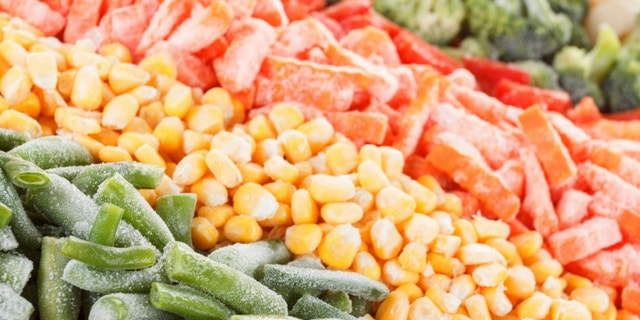 NEWYou can now listen to Fox News articles!
National Frozen Foods Corporation is recalling some of its Not-Ready-To-Eat frozen green peas and frozen mixed vegetables because they may be contaminated with the bacteria Listeria monocytogenes.
The Seattle-based company announced its voluntary recall Friday and warned that listeria can cause serious and sometimes fatal illness in young, elderly, or immunosuppressed people. In pregnant women, it can cause miscarriages and stillbirth.
The recalled products were distributed nationwide between Sept. 2, 2015 and June 2, 2016, and they were sold under the brands Great Value, Bountiful Harvest, First Street, Live Smart, Market Pantry and Sprouts Farmers Market. The company issued its recall after a sample tested positive for the bacteria.
Food Safety News reported the recall appears to be unrelated to CRF Frozen Foods' recall of frozen veggies, which the Pasco, Wash., company announced in April.
Following the cooking instructions on products sold by the National Foods Corporation can reduce infection risk, the company said in its announcement. Symptoms of foodborne illness include severe headache, stiffness, nausea, abdominal pain and diarrhea. The company said no illnesses have been reported so far.
The Food and Drug Administration advised customers who purchased any of the recalled items not to consume them, but to return them to their place of purchase for a full refund.
The following items have been recalled:
| | | | |
| --- | --- | --- | --- |
| PRODUCT DESCRIPTION | NET WT. | ITEM #/UPC | LOT INFORMATION/CODE PRINTED ON PACKAGING |
| Bountiful Harvest Green Peas | 40 oz. | 22486 11904 | 6E11B1N |
| Bountiful Harvest Green Peas | 40 oz. | 22486 11904 | 6E11C1N |
| Bountiful Harvest Green Peas | 40 oz. | 22486 11904 | 6E11D1N |
| Bountiful Harvest Green Peas | 40 oz. | 22486 11904 | 6E11E1N |
| First Street Green Peas | 12 oz. | 41512 12134 | BEST BY OCT 28 17 |
| First Street Green Peas | 40 oz. | 41512 08202 | BEST BY JUN 02 17 |
| First Street Green Peas | 40 oz. | 41512 08202 | BEST BY NOV 11 17 |
| Great Value Mixed Vegetables | 12 oz. | 78742 05334 | BEST IF USED BY 07 06 17 |
| Great Value Mixed Vegetables | 12 oz. | 78742 05334 | BEST IF USED BY 07 20 17 |
| Great Value Mixed Vegetables | 12 oz. | 78742 05334 | BEST IF USED BY 07 27 17 |
| Great Value Mixed Vegetables | 12 oz. | 78742 05334 | BEST IF USED BY 10 25 17 |
| Great Value Mixed Vegetables | 12 oz. | 78742 05334 | BEST IF USED BY 10 26 17 |
| Great Value Mixed Vegetables | 26 oz. | 78742 10907 | BEST IF USED BY 07 18 17 |
| Great Value Mixed Vegetables | 26 oz. | 78742 10907 | BEST IF USED BY 10 07 17 |
| Great Value Mixed Vegetables | 26 oz. | 78742 10907 | BEST IF USED BY 10 26 17 |
| Great Value Mixed Vegetables | 26 oz. | 78742 10907 | BEST IF USED BY 11 03 17 |
| Great Value Mixed Vegetables | 26 oz. | 78742 10907 | BEST IF USED BY 11 11 17 |
| Great Value Mixed Vegetables | 26 oz. | 78742 10907 | BEST IF USED BY 11 10 17 |
| Great Value Steamable Mixed Vegetables | 12 oz. | 78742 08026 | BEST IF USED BY 10 09 17 |
| Great Value Sweet Peas | 12 oz. | 78742 05336 | BEST BY 03 02 17 |
| Great Value Sweet Peas | 12 oz. | 78742 05336 | BEST IF USED BY 08 06 17 |
| Great Value Sweet Peas | 12 oz. | 78742 05336 | BEST IF USED BY 10 14 17 |
| Great Value Sweet Peas | 12 oz. | 78742 05336 | BEST IF USED BY 10 21 17 |
| Great Value Sweet Peas | 12 oz. | 78742 05336 | BEST IF USED BY 10 20 17 |
| Great Value Sweet Peas | 12 oz. | 78742 05336 | BEST IF USED BY 11 02 17 |
| Great Value Sweet Peas | 12 oz. | 78742 05336 | BEST IF USED BY 11 03 17 |
| Great Value Sweet Peas | 12 oz. | 78742 05336 | BEST IF USED BY 11 04 17 |
| Great Value Sweet Peas | 26 oz. | 78742 10912 | BEST IF USED BY 10 14 17 |
| Great Value Sweet Peas | 26 oz. | 78742 10912 | BEST IF USED BY 11 04 17 |
| Great Value Sweet Peas | 26 oz. | 78742 10912 | BEST IF USED BY 11 15 17 |
| Live Smart Mixed Vegetables | 32 oz. | 603539 | NY6076C3N |
| Live Smart Mixed Vegetables | 32 oz. | 603539 | NY6076D3N |
| Live Smart Mixed Vegetables | 32 oz. | 603539 | NY6076E3N |
| Live Smart Mixed Vegetables | 32 oz. | 603539 | NY6076F3N |
| Live Smart Mixed Vegetables | 32 oz. | 603539 | NY6076G3N |
| Live Smart Mixed Vegetables | 32 oz. | 603539 | NY6076H3N |
| Live Smart Mixed Vegetables | 32 oz. | 603539 | NY6076J3N |
| Live Smart Mixed Vegetables | 32 oz. | 603539 | NY6076K3N |
| Live Smart Mixed Vegetables | 32 oz. | 603539 | NY6076L3N |
| Market Pantry Mixed Vegetables | 32 oz. | 85239 00547 | Best by 03 AUG2017 |
| Market Pantry Mixed Vegetables | 32 oz. | 85239 00547 | Best by 04 AUG2017 |
| Market Pantry Steam-In-Bag Mixed Vegetables | 12 oz. | 85239 00494 | Best by 12 MAR2017 |
| Market Pantry Sweet Peas | 32 oz. | 85239 00549 | Best by 04 JUL2017 |
| Market Pantry Sweet Peas | 32 oz. | 85239 00549 | Best by 17 SEP2017 |
| Sprouts Farmers Market Mixed Vegetables | 16 oz. | 74875 00983 | USE BY 08 02 18 6B08G3N |